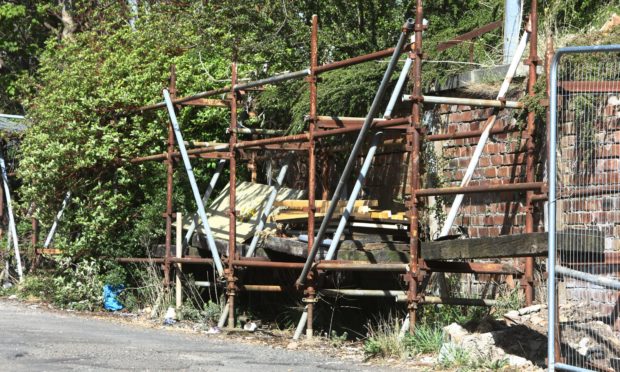 Concerns have been raised about the security of a wall being held up by rusty scaffolding near a Dundee car wash.
The small wall, behind Tay Taxis' office on Clepington Road, Dundee, has had scaffolding keeping it up for at least 15 years.
It is not clear who is responsible for the wall, but Dundee City Council has pledged to continue to investigate with Land Registry Scotland.
The wall is at one edge of a derelict site on Mains Loan, which used to be home to a jam factory but was demolished several years ago after a spate of vandalism and fires. Numerous plans to build homes on the land have been lodged over the years.
One worried taxi driver said people's lives and vehicles were being put at risk by the inaction to secure the wall.
Speaking on the condition of anonymity, they said: "There is a tree pushing the wall out… it will collapse as the scaffold is not holding it up. It should be blocked off.
"A city council safety officer looked at it and said the scaffold is doing nothing to hold the wall up.
"The public and taxi drivers wash their cars there. The whole wall is going to come down and maybe crush a car."
Charles Duthie, Tay Taxis director, described the wall as an "eyesore" and agreed he would like to see it made more secure.
He said: "I joined Tay Taxis 15 years ago and the wall and scaffolding was like that then.
"It has largely stayed the same but it would be good to see something done."
Barrat North Scotland applied for planning permission to build 230 properties on the site earlier this year.
The Courier approached Barratt Homes to ask if they plan on making the wall safe as part of their plans and when they hope to start the development but the firm did not respond.
When the latest application was announced in March, Barratt North Scotland managing director David Palmer said: "As local residents will be aware, the site at Mains Loan has been earmarked for development for many years but the huge costs involved in preparing this site have made it challenging to deliver."
A Dundee City Council spokesman, said: "Council officers are aware of a long-standing issue with the retaining wall at this location.
"We will continue to retrieve Land Registry records and investigate further in order to contact the owners and request that the appropriate repairs are undertaken."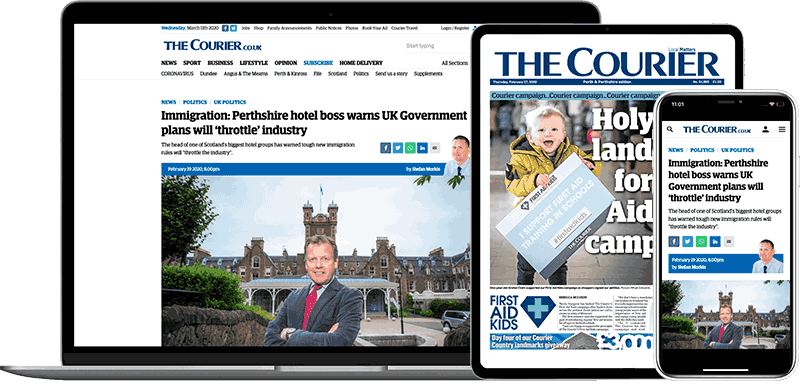 Help support quality local journalism … become a digital subscriber to The Courier
For as little as £5.99 a month you can access all of our content, including Premium articles.
Subscribe