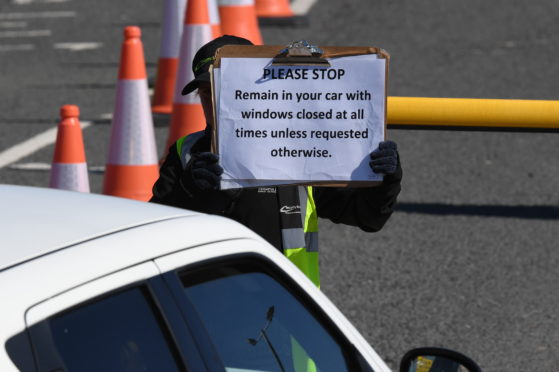 A fifth of Scotland's coronavirus test results are unaccounted for, raising fears the country has thousands more confirmed cases than is being reported.
The 30,000 swabs, taken since mid-April, are still being processed in a "data exchange" between the UK Government and Scottish Government.
It means Scotland's confirmed figure of 13,929 is likely to be significantly higher and also casts doubt on recent regional figures.
No new cases were reported in Tayside on Monday and none on Tuesday in Fife, despite testing being ramped up.
No new coronavirus cases recorded in Fife in past 24 hours as figure rises by eight in Tayside
The tests have been carried out by Scotland's drive-through and mobile Regional Testing Centres (RTC), run by the UK Government's Department of Health & Social Care.
Scottish Labour Health and Social Care spokesperson Monica Lennon MSP said the country cannot safely come out of lockdown if test results are unpublished after a month.
She said: "This process is unfit for purpose.Results are needed by individuals and authorities within a few hours if a test, trace and isolate strategy is to work effectively.
"The Scottish Government needs to get a grip of this quickly – only with adequate testing can we ease a lockdown which the public have complied with for almost two months now."
The 43 centres have been set-up across the UK and are available to all essential workers, anyone over 65 with symptoms, and anyone with symptoms whose work cannot be done from home.
There are five in Scotland at Edinburgh, Aberdeen and Glasgow airports, Perth College, and Inverness – University of the Highlands and Islands campus.
In a recent internal briefing sent out by NHS Tayside, seen by The Courier, the health board admits it does not know any of the results from the centres.
The Scottish Government say the statistics will be included in daily figures "shortly" and stressed that the individuals tested have received their own results.
It comes after the UK Government's Department of Health & Social Care, which has not responded to a request for comment, poured huge resources into reaching 100,000 daily tests.
The Conservative-led government has been criticised by the Chair of the UK Stats Authority for a lack of "trustworthiness" in its reporting of daily testing figures.
A total of 30,708 such tests have been carried out so far in Scotland by the programme including 1,517 on Tuesday.
This is on top of the 107,252 tests undertaken through Scottish NHS labs to-date, of which 3,591 were carried out on Tuesday.
The unregistered tests account for 22% of all undertaken.
North East Scottish Conservative MSP Bill Bowman said the pandemic has "underlined the need for our governments to work together".
He added: "Only then will we get a clear picture of what's happening on the ground."
A Scottish Government spokesperson said: "The data exchange from UK Government programme has commenced and we are in the process of quality assurance, testing, and Community Health Index matching.
"Significant progress has been made in the last week and the patient information including results from this feed will be provided to Public Health Scotland for inclusion in public health records shortly.
"While the publishing of results at individual UK Government testing centres in Scotland is a matter for the Department of Health and Social Care, these results are communicated directly to the individual being tested."