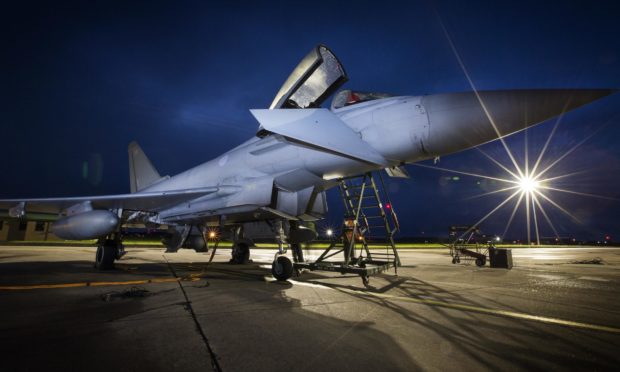 A military night-flying exercise involving fighter jets had locals looking to the skies above Dundee late on Thursday night.
The roar of RAF Typhoons could heard across the city and surrounding areas between 10pm and 11pm.
The jets from RAF Lossiemouth were taking part in night-flying training on Thursday evening, which was described as "essential" by the air force.
The route followed by the aircraft – which can hit speeds of mach 1.8 and an altitude of 55,000ft – took them on transit journeys above the city and on circuits of the Leuchars airfield.
In a treat for plane-lovers, an RAF Voyager aircraft was also deployed above the North Sea during the training exercise.
It flew in a "circuit" pattern above the waters, providing air-to-air refuelling for the Typhoons.
Typhoon night flying is now complete – our Typhoon flying window will return to normal hours.

This week's #PhoonFriday is another photo drop… courtesy of the Lossie Spotters Group on Facebook.

The theme was "Blue Skies" – which is your favourite?#PhoonFridayPhotoDrop 1/5 pic.twitter.com/PuITkvbNRV

— RAF Lossiemouth (@RAFLossiemouth) May 15, 2020
A spokesman for RAF Lossiemouth said: "Yesterday concluded three weeks of night flying.
"Our pilots have to regularly practice in low-light conditions in order to deliver on operations in the UK and overseas.
"Those who use ADS-B tracking services may have seen an RAF Voyager operating in a 'circuit' pattern over the North Sea.
"This aircraft from RAF Brize Norton was providing air-to-air refuelling for our Typhoons, enabling them to maximise the amount of training they can conduct in one flight."
More from the training exercise can be found on RAF Lossiemouth's social media under the hashtag #NightFlying.
Some locals took to social media to question what the noise was on Thursday evening.
2 planes have just flew over my house. Flying so low that I actually started to panic that they were coming down!! Looked out the window and could see their lights clear as anything. What's that all about? 🤨🤨oh and aside from that, I saw a fox 🦊 never seen a live one before.

— Lipsy McSTAYTHEEFFATHOME (@LipsyMcShedhead) May 14, 2020
Did anyone else hear a weird noise over Dundee tonight? Sounded like a plane but went on for ages.

— DrugDiscoveryGirl (@WomanInSci) May 14, 2020
The night-flying exercise took place just days after Typhoons from RAF Lossiemouth joined with the US Air Force for Exercise Point Blank.
The operation involved more than 50 aircraft from both countries.
It comes after it was revealed that Typhoon jets would be returning to Leuchars later in the year.
The air force's Quick Reaction Alert (QRA) crews, which provide round-the-clock readiness to intercept unidentified aircraft approaching UK airspace, will temporarily move to the Fife base while runways at RAF Lossiemouth are resurfaced.
Reminder: we're in our final week of Night Flying!#TeamLossie pilots need to train in low light conditions to gain currencies for ops in the UK & overseas, and as such the flying window is later from 1430-0030, concluding on Fri 15 May.

Do you have any Qs about #NightFlying? pic.twitter.com/Q4rTNZTH4R

— RAF Lossiemouth (@RAFLossiemouth) May 12, 2020
Leuchars Station army base, formerly RAF Leuchars, was previously home of the UK's northern QRA force.
The team moved to Moray in 2014.
The QRA is expected to move from RAF Lossiemouth to Leuchars in mid-2020.
Typhoon training and P-8A Poseidon maritime patrol operations will relocate to Kinloss Barracks.