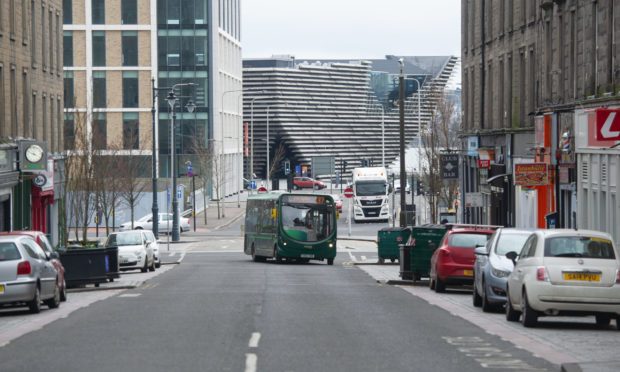 Dundee council bosses have moved to make the city's streets more walker and cyclist friendly to encourage workers to use active travel when lockdown eases.
Temporary 20mph zones, closing Union Street to traffic and additional barriers and signage to reduce congestion are at the centre of a £460,000 bid to adapt the city for changing travel habits.
Both UK and Scottish governments have warned of the dangers of using public transport during the pandemic and have encouraged walking and cycling as an alternative.
The city's temporary plans have been criticised for not going far enough, with calls for permanent changes, more support for active commuters on the Tay Bridge, and support for struggling public transport operators.
Alan Ross, SNP, convener of Dundee City Council's city development committee, said: "If our bid is successful I hope that the new temporary measures encourage more people to use more sustainable modes of transport to get about, not just in the current circumstances but also as we move into a new normal.
Plans under way to close Dundee street to traffic and introduce 20mph zones across city
"We have pulled these initial proposals together quickly, trying to reflect not only our desire to increase more active ways of travel, but also to balance that with keeping the city moving, even in lockdown."
The 20mph zones are planned for central Broughty Ferry, the Perth Road area, Douglas and Fintry.
In the city centre, Union Street will be closed to vehicles.
Temporary barriers, signage and filters are planned for areas where there are already high levels of pedestrian and cycling activity. These include Douglas Terrace, Broughty Ferry Esplanade and Magdalen Green.
A spokesman for the Tay Road Bridge Joint Board said it had ruled out some proposals, including a pop-up carriageway for cycling on the bridge, after taking professional advice.
A 20mph scheme had already been agree for sections of the B946, running through Newport, but it is understood lockdown may have delayed its introduction.
Dundee West End councillor Richard McCready, chair of the city's Labour Group and transport partnership TACTRAN, welcomed the bid but called for permanent changes.
He said: "It is disappointing that funding is only available for temporary measures. I want to see permanent measures to promote active travel.
"I also want to see progress on improving air quality in the city on a permanent basis.  I want to see the Low Emission Zone in Dundee brought forward and I want to see plans to improve the health of the people of Dundee by improving air quality."
He called on the city authority to properly consult with local people about the changes being proposed in their communities.
"Public transport will also struggle under continued social distancing regulations and we need to find ways to support public transport so that an improved public transport network along with enhanced active travel makes a real difference to the environment in Dundee and beyond," he added.
The Scottish Government's £10m Spaces for People pot could provide funding. It is aimed at encouraging local authorities to create "pop up walking and cycling routes."
The Dundee bid follows the launch of a public consultation on similar plans in Perth.
Angus Council official are gauging public support for similar initiatives among its communities while Fife Council chiefs were "exploring options" but raised concerns the money available is "sufficient to develop a meaningful scheme." A Perth consultation is open.
Ferry ward councillor Craig Duncan, Liberal Democrat, said the 20mph speed limits would be "mandatory rather than merely advisory" and called on the council to go further on the speed limited zones.
"I would like to see more such zones in appropriate places and for them to become permanent, but crucially the public needs to be taken on board.
"I am assured that the authorities are fully in listening mode and will respond to public feedback," he said.
Fife Tay Bridgehead councillor Jonny Tepp, also vice chair of the Tay Road Bridge Joint Board, said the bridge manager's view was that "designating a pop-up carriageway for cycling use could not be done cheaply or safely."
He will write to the bridge manager asking to look at other ways of supporting active travel.
"The release does not mention whether consideration was given to reducing the speed limit on the bridge to 30 or even 20mph and whether or not this would make any difference to the assessment about the safety of a separate designated cycling lane.
"Another solution that has not been explicitly considered is whether a service to transport bikes across the bridge would help by allowing cyclists to walk across and collect at the other side."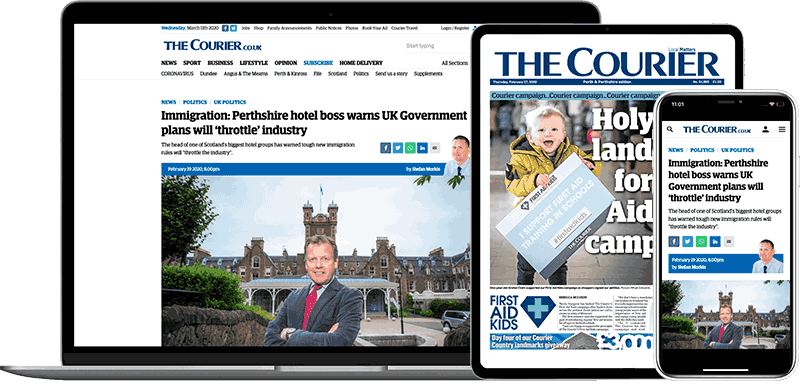 Help support quality local journalism … become a digital subscriber to The Courier
For as little as £5.99 a month you can access all of our content, including Premium articles.
Subscribe