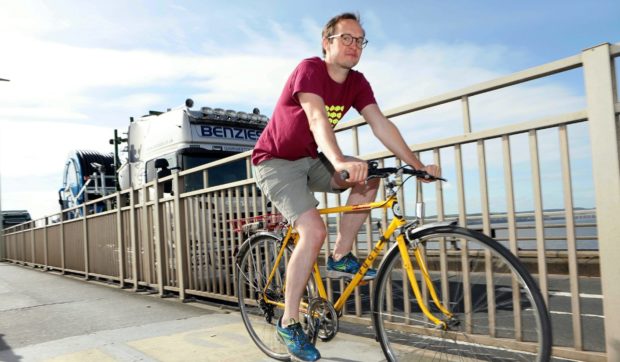 Coronavirus has turned the narrow passage used by walkers and cyclists on the Tay Road Bridge into a "public health hazard," cyclists have said.
Russell Pepper of Dundee Cycle Forum has written to the Tay Road Bridge Joint Board, claiming management are "aggravating" the ongoing health crisis by refusing to turn more of the crossing over to walkers and cyclists.
Cyclist numbers have rocketed since the start of lockdown with bridge chiefs recording a 37% increase in those using bikes to cross the span. Pedestrian numbers have also increased.
The board announced earlier this month it would not apply for Scottish Government funding, – a national pot now totalling £30m – aimed at getting more workers walking and cycling in a bid to reduce the risk of virus spread.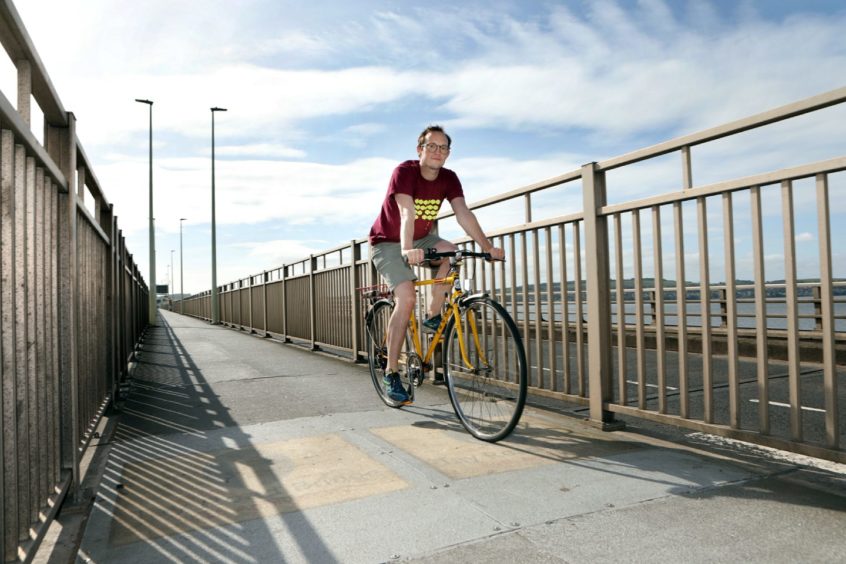 Mr Pepper said: "The reasons for not even applying for feasibility are based mainly in opinion rather than fact.
"We believe that by failing to even apply for funding for a feasibility study, they will be clearly complicit in worsening the public health crisis."
He said the board had based its decision on a desire to "maintain the status quo of maximum motorised traffic flow."
"By their own admission, there is more foot and cycle traffic along the walkway which is too narrow to allow social distancing," he added.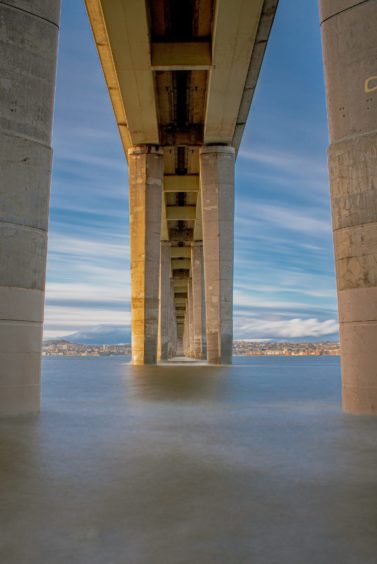 Mr Pepper is due to meet with bridge manager Alan Hutchison later this week after sending the board a letter questioning the decision not to apply.
Board vice-chair councillor Jonny Tepp of the Fife Liberal Democrats, said he was also "very disappointed" after hearing the advice from Mr Hutchison.
He said: "The Bridge Manager has been very clear that having considered a number of measures he does not believe action can be taken quickly or cheaply that will making cycling across the bridge safe.
"I am very disappointed by this."
He called on cycling charity Sustrans, which works with the government to distribute funds to support active travel, to give a view on changing the bridge set up.
"If a national cycling organisation with appropriate road safety expertise had a new proposal I would welcome this and I would ask the bridge manager to consider it."
Mr Hutchison has said he and his team are against any temporary change as it could create congestion, worsen air quality, impact on the Dundee road network and would make the crossing's parapet more accessible to those with serious mental health problems.
Although cycling numbers have increased, they still made up only 3% of total bridge traffic, he added.
SNP councillor Lynne Short SNP, the board chairperson, called for cyclists and walkers to "respect" the decision not to apply for additional funding.
She said: "Everyone is fully aware of the board and Dundee City Council's commitment to active travel.
"Where we can do things we try to do them in a way that encourages and supports walking, cycling and other forms of active travel.
"But when it simply cannot be done for good technical, logistical, time and above all safety reasons then we have to reluctantly decide not to take some suggestions forward."
A Sustrans spokewoman said officials at the charity are aware partners are in discussions about the possibility of temporary infrastructure measures on the bridge, but had "not provided any input into any of these discussions."
She said:"As the roads authority, any decisions as to what changes can be made to infrastructure ultimately lies with each relevant local authority, not Sustrans."
Meanwhile, sight loss charity RNIB Scotland has written to Dundee Council asking officials to ensure plans to create temporary cycle-lanes in the city do not endanger blind and partially-sighted people.
Director James Adams said: "The problem is that blind and partially sighted people might not be able to see or hear cyclists approaching,
"New cycle lanes must be created with full regard to pedestrians with sight loss or other mobility issues."