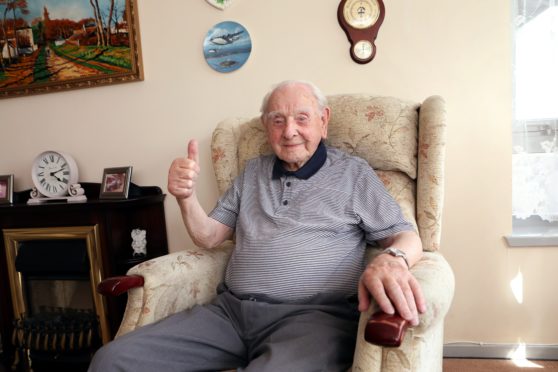 Lifelong Dundee United supporter Arthur Harris has avoided the blues after having to spend his 100th birthday in city lockdown.
Goodwill messages from Tannadice were among the birthday wishes the former RAF servicemen received at his home in the city's Pennycook Lane sheltered housing complex, despite having to miss out on a personal visit from family due to coronavirus restrictions.
Born in the city's Lochee Road, Arthur left school at 14 after attending Dudhope Primary School and Logie Central Secondary, starting as a cycle message boy for Johnson Stores around the west end of Dundee.
He joined the RAF in 1937 and trained as a flight mechanic, working on Lancaster bombers and spending two years in Iceland with a flying boat squadron.
It was while he was on leave in 1944 and visiting Carnoustie beach with friends that Arthur met Gladys Cameron and following a whirlwind romance, the couple married later that year in Dundee's St Mary Magdalene Church.
They had two sons, George and Raymond, who both live south of the border. Gladys passed away in 2010.
Following the end of the war, Arthur was stationed at an RAF base in Germany, working on aircraft used to fly food and supplies during the Berlin airlift of 1948/49.
He then returned to a base in Suffolk before becoming a long-distance lorry driver on return to civilian life, working for companies including Cramond Steel and BRS.
His enduring passion has been Dundee United, who he first saw at Tannadice when a young boy and the club was in the country's old second division.
Arthur also enjoys a proud link to Dundee history as the great-grandson of the city's last bellman, or town crier, Charles Harris, who died in 1904.
Arthur's son, George, 71, said the family were disappointed the pandemic had put paid to plans for a major celebration of the big day.
"Dad does really well and he still likes to get out and about. We had a big party planned and were going to be coming up from York, but this whole thing has knocked that on the head."
Arthur said: "I can't really say why I've managed to live so long. It's just the luck of the draw really, there's no secret.
"I've enjoyed my life, it's been good."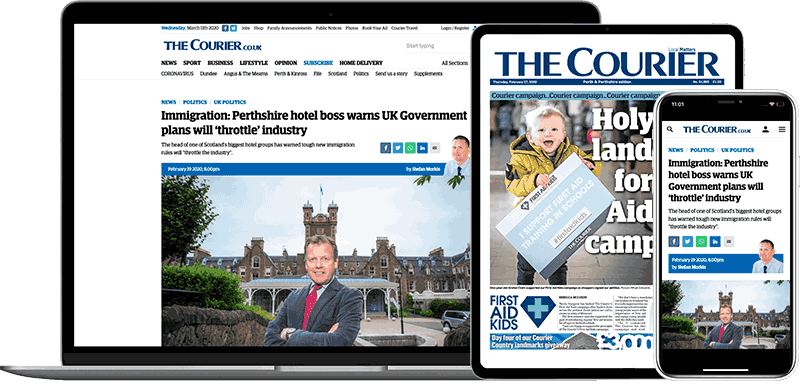 Help support quality local journalism … become a digital subscriber to The Courier
For as little as £5.99 a month you can access all of our content, including Premium articles.
Subscribe