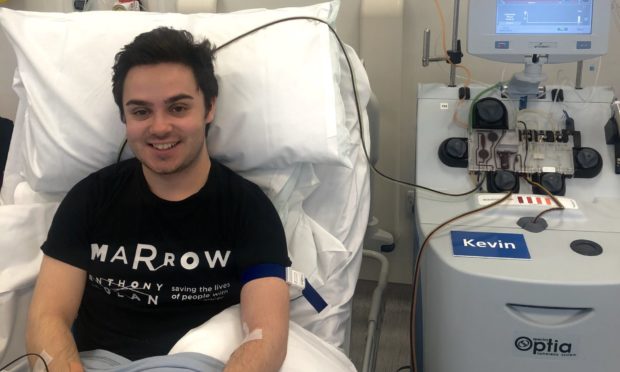 A selfless student made a 650-mile round trip alone to donate life-saving stem cells to a stranger.
Francis Allison made the journey during lockdown after waiting three years to donate to blood cancer charity Anthony Nolan.
Last month the 20-year-old was matched with someone in urgent need of a transplant and travelled to Sheffield at the peak of the pandemic, as life-saving procedures continue.
The Dundee University bio medical sciences student said: "I was so excited to find out I was a match for a patient with blood cancer.
"I've spent quite a few years signing people up to the Anthony Nolan stem cell register as a marrow volunteer at university, so I know a lot about the process and have heard many a success story.
"To actually have the opportunity to experience this myself, it felt like the next step on the life-saving journey.
"When you know that you are potentially this person's last and best chance at life, you cannot just sit on your hands and do nothing.
"It felt more like an honour."
Donating cells involves having blood is drawn out of one arm and fed into a cell-separating machine where stem cells are filtered out. The red blood cells are then put back into the blood stream through a second needle. The process takes around four or five hours.
Donors can usually take someone with them for support but due to lockdown restrictions Francis had to travel alone, wearing a face mask sent to him by Anthony Nolan.
"There were some travel disruptions that needed solving but the work that Anthony Nolan are doing is extremely essential," Francis added.
"There are patients out there whose condition is the same and this hasn't changed that.
"I don't think you really appreciate the gravity of the gift you're giving the person until you're lying in the bed connected to the machine, that is when it really sunk in.
"I thought about my recipient when I was donating. What they may be doing or thinking right at that moment in time. I looked at the stem cell bag and thought it is theirs now. I truly hope it's everything they need to live a happy and normal life."
There are 800,000 people on the Anthony Nolan register. The charity recruits people aged 16-30 as research has shown younger people are more likely to be chosen to donate.
Henny Braund, chief executive of Anthony Nolan, said: "These are extraordinary times. "Francis has done an extraordinary and incredibly selfless thing by giving someone with blood cancer or a blood disorder their best chance at survival.
"Transplants continue to happen around the world meaning we still need people to join the UK stem cell register.
"Every person who joins the Antony Nolan register, like Francis has the potential to help save someone in desperate need of a lifesaving stem cell transplant."