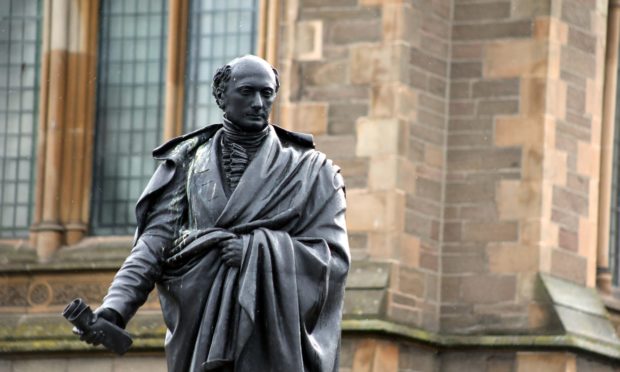 A Fife amateur historian is celebrating a crucial win in his battle to protect the statue of an 18th century Dundee political reformer.
Graham Ellery, 61, has set his face against the left-wing Stop Trump Coalition, which has listed the tribute to George Kinloch in Dundee's Albert Square on a website targeting statues that "celebrate racism".
Mr Ellery has succeeded in getting editors at London university UCL – which runs the "slave ownership" database cited by the statue protest movement – to update its Kinloch entry with a speech describing the Dundee MP's opposition to the trade.
He said: "The campaigners set out to list those who celebrated slavery and this is definitely not the case for George Kinloch."
Mr Ellery's interjection comes as vandals daubed the Fife side of the Tay Rail Bridge with the Black Lives Matter slogan.
Protesters have previously torn down the statue of slave trader Edward Colston in Bristol after a long-standing campaign to have it removed.
In Scotland, groups have damaged a monument to William of Orange in Glasgow and painted the slogan 'racist king' on the statue of Scottish King Robert the Bruce in Bannockburn.
The UCL slavery database now includes a link to Kinloch's 1831 speech, recorded in The Courier, in which the political reformer is quoted as saying: "I am an enemy to slavery in all its forms – negro slavery in particular, and would vote for its gradual abolition."
Mr Ellery wants the line added to the statue's dedication.
He said: "Given what is going on then this would be a positive step.
"I would like to see that phrase included. The line on his plaque would reduce the risk that people would attack it."
Statues in Dundee and Perthshire earmarked in 'topple' campaign by anti-racism activists
Dundee City Council leader John Alexander has ordered a review of the Kinloch statue's dedication after the Black Lives Matter protests sparked a refreshed focus on the historic slave trade.
A member of UCL's Legacies of British Slave-Ownership team said its database is a resource for the public to explore and understand some of the ways in which colonial slavery shaped modern Britain.
She said "George Kinloch's anti-slavery statement was not an unusual or pioneering position to take at the time.
"Many slave-owners expressed their dislike of the institution of slavery but qualified this by saying that, though unfortunate, it was somehow necessary."
The Stop Trump Coalition did not respond to a request for comment, but did answer Mr Ellery's call to remove the statue from its list.
A member of the group wrote: "The material you supplied shows that he said verbally he was against slavery, at one time.
"But you also admit that he owned slaves. This hardly seems like a basis for you to email us every day with various accusations."