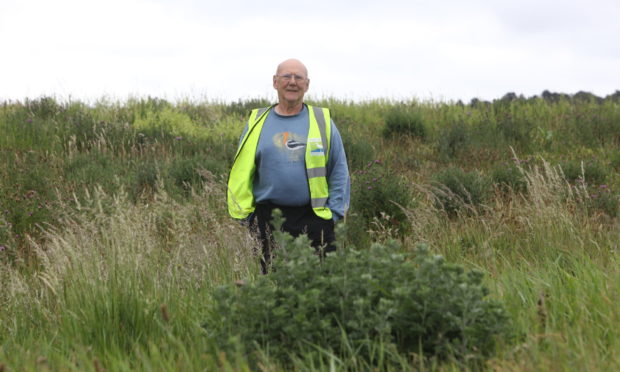 A Tayside man has spoken of his pride on seeing a rare Scottish wildflower bloom in a Dundee park.
Wildlife guide Ian Ford, 71, planted the Greater Yellow Rattle in the city's Riverside Nature Park after obtaining a special licence from government body Scottish Natural Heritage.
He said the lack of council grounds maintenance work in the area during lockdown meant the rare flower had bloomed for the first time this year.
"I thought to myself, this is brilliant. The licence allowed me five years to get it established. It was very exciting to see it growing in the wild for the first time."
The plant has almost completely died out in the wild in Scotland. The only other patch is in East Haven on the Angus coast.
Ian said: "It is the first time they have flowered as they should. In previous years they've been mown down.
"I'm frightened to go back and look again in case something has happened to them."
The distinctive yellow flower has been compared to a canary getting out of bed. It was viewed in the past as a weed but, as it weakens nearby grass, the plant makes it more likely other wildflowers will bloom.
Earlier this month, city chiefs announced plans for 26 biodiversity zones in parks across the city – thought to be around 20% of the green space available to it – after publishing its Biodiversity Action Plan in April.
The west end community around the city's oldest park Magdalen Green were the first to submit their positive views on the proposal to leave some areas uncut.
Mr Ford, who lives in Kingoodie and is chair of the Friends of Riverside Nature park, said lockdown had provided a turning point in his work to champion wildlife in urban areas.
He said: "It is a pivotal moment. It has never happened in Dundee this way before."
Mr Ford has carried out an informal survey of the areas allowed to grow under lockdown.
He studied Riverside Avenue opposite Riverside Nature Park, grass to the west of Dee Gardens, South Road Park from the west end to Arran Drive roundabout and grass between Arran Drive and South Road up to the Buttars Loan roundabout.
He said that areas with a good management system, where council workers cut the grass annually and removed it, could see as many as 150 different species of plants and insects flourish in the city meadows.
The figure fell away to between 20 to 30 species in areas that were cut once a year with the grass cuttings left in place, and fewer still if they area was regularly mowed.
A Scottish Natural Heritage spokeswoman said Greater Yellow Rattle was "probably introduced from the continent with agricultural grass seed in the early 1700s.
"Like many arable weeds it has declined significantly and has almost entirely died in the wild Scotland.
"Planting Greater Yellow Rattle in newly created meadow at Riverside helps to preserve an attractive but little known piece of our agricultural heritage for posterity."