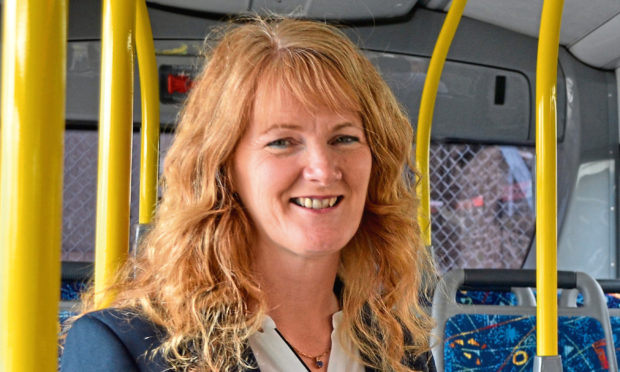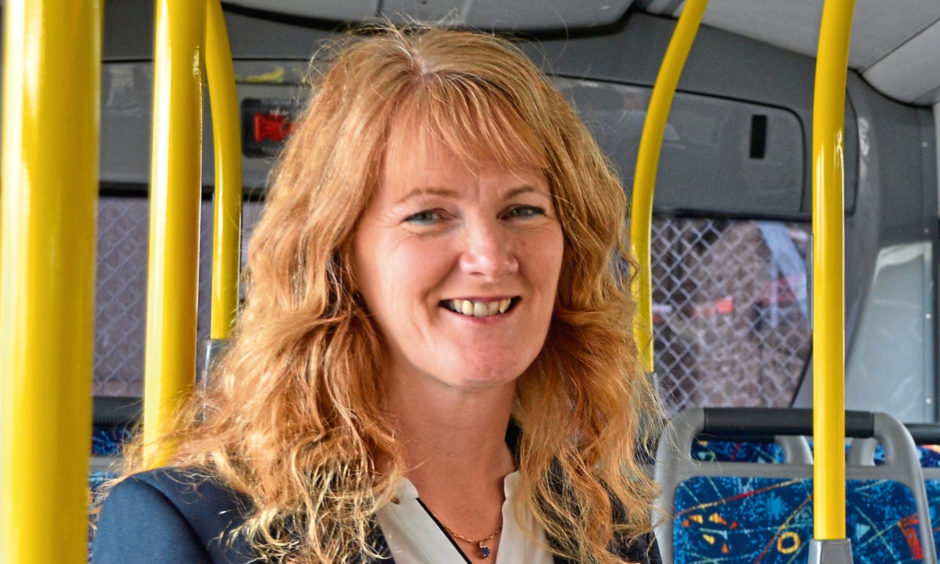 Our Pandemic Pedal Power series has examined how towns and cities could redesign their roads to better accommodate cycling. However, Christine McGlasson, managing director of bus firm Xplore Dundee, says public transport cannot be given short shrift as those who either can't or don't want to cycle still need to get around in an eco-friendly way.
Transport bosses in Dundee must stop "pussyfooting around" car owners and take decisive action to prioritise active travel and public transport over cars, the city's bus firm boss has said.
Christine McGlasson, managing director of Xplore Dundee, says now is the time to dethrone private cars and give road space over to both cyclists and buses.
In an extensive interview as part of our series assessing how ready our cities are for better, greener transport as lockdown eases, McGlasson says:
Dundee City Council is "pussyfooting around" upsetting car drivers with its unambitious Low Emission Zone plans
Buses should be prioritised over cars where possible to improve punctuality
Xplore Dundee could save £867,000 a year if its buses ran on time, every time
Congestion-causing initiatives like cheap Christmas parking "drove her insane".
The public transport chief has watched as Dundee City Council pursued £460,000 of funding for pop-up cycling lanes from the Spaces for People fund – along with another £2 million for other areas following public pressure – and believes buses deserve similar treatment.
Not everyone wants to cycle, she says, and making the bus the fastest way from A to B would convince those clinging to their cars to think again.
"A bus carries a lot more people (than a car), and buses can take a lot of cars off the road, and that reduces congestion," she says from home in Stirlingshire, where she has been working remotely for weeks.
"For the most part buses are much more environmentally friendly – even the older ones, if you think about it per person per car.
"From a social inclusion point of view and a mobility point of view they're also really important. We have noticed Dundee has had the highest bus use, percentage-wise, compared to pre-pandemic levels, and I think a lot of that has to do with the fact we have the lowest car ownership in Scotland.
"I think what has happened in the bike side and the walking side is really good and we totally encourage that, but we need to think multi-modal rather than putting all our eggs in one basket.
"Not everyone is going to swap their bus pass for a bike, especially because it's not the easiest city to cycle in. There's lots we can do in an integrated way.
"When there's an emergency, as with the cycle lanes, they've achieved so much in a short space of time. Why not do the same for the bus?"
It is understood that Transport Scotland may be mulling over a Spaces for People-style splurge for public transport to speed up delivery of the £500 million Bus Partnership Fund, announced last year to improve bus infrastructure across Scotland.
A Transport Scotland spokesperson said: "Our intention to support the bus industry through partnership models and priority infrastructure remains a key part of our thinking around Scotland's green recovery.
"We will have more information to share in due course, but we know that urgent support is required, which is why we have maintained the Bus Service Operators Grant at pre-COVID-19 levels and provided an additional £46.7 million to help restart bus operations across the country following lockdown."
Green light
There's a reason McGlasson is so keen to see cars stay away (perhaps two, when you consider that she's in the business of putting bums on bus seats): punctuality.
Journey times on empty roads have fallen by around 13%, and bus drivers have found themselves having to wait at stops, so ahead of a timetable that usually allows for congestion.
The firm has run a reduced service with approximately 25% of its typical fleet since lockdown began, and passenger numbers have slumped to 13-15% of pre-pandemic levels. It has now brought around 75% of its fleet back online after Holyrood approved millions of pounds of funding to support bus firms during the coronavirus crisis.
Transport alliance Transform Scotland – of which Xplore is a member – says public transport must become a key priority for local and national government post-Covid.
"The Corona Crisis has already led us to begin to rethink and rebuild the transport system and we should continue to do so with true sustainability as the guiding principle," it says in a report published at the end of June.
"Climate change, poor local air quality, inadequate active travel routes, inefficient use of road space and the need to regenerate town and city centres all require urgent and concerted action.
"A total rethink of transport spending priorities is the only way to address these issues."
McGlasson – like local cyclists and international experts – is calling on Dundee City Council to seize upon what could be a one-off opportunity to change the city's road network for good, and for the better.
"The air quality has drastically improved with all the cars off the roads and we want that to continue," she says.
"What we would like (the council to do) is to strike now and this is what we're trying to speak to the council about.
"It's important we talk now so we will come back better rather than ignoring the fact we've got an opportunity here."
At the start of the year, Xplore Dundee drew up a wishlist of infrastructure changes it hoped to see implemented in Dundee.
Among the suggestions put forward to both Dundee City Council and Transport Scotland were "smart" traffic lights that can see buses coming, bus gates and lanes, yellow boxes for turning vehicles and an expansion of the Safer Streets initiative which bans cars from the immediate vicinity of schools at the start and end of school days.
Many of these proposals, Xplore says, would help improve punctuality on bus services which are averaging less than 10mph at many pinch points in the city – something it says the council's new wave of 20mph zones will hinder further.
Dundee's city development convener, Councillor Alan Ross, has already acknowledged the need to better support buses in an earlier interview for this series.
🛑 From Monday (22 June), a series of localised 20mph zones will be temporarily introduced in Douglas, Fintry and the West End. We will keep a close eye on the impact on our services, and are engaging with Dundee City Council as usual. pic.twitter.com/dOEJyB8q9e

— Xplore Dundee (@XploreDundee) June 18, 2020
And while the wishlist remains just that – with computer modelling of the suggestions delayed due to the Covid-19 pandemic – McGlasson believes there is an opportunity to explore trying out some of the ideas while streets are quiet.
"With all these 20mph zones, while our buses don't tend to go above 20mph, if there's more traffic back on the roads and it's moving slowly that's going to…have a knock-on impact to the service we can offer. It's important these things are done with a lot of thought and consultation, and there's no reason we can't work together.
"Unless you can make buses move freely, you're not going to make it easy for people to make the choice (between car and bus). If they think they will be stuck in traffic or be late because the bus is late, they're not going to see it as convenient. That's really important.
"The vicious circle is congestion – people don't want to travel by bus because the journey times are too long so they take the car and add to the congestion.
"If you can improve traffic flow, put in more bus priority, yellow boxes, traffic light priorities, bus lanes where we can, put the infrastructure in and get us running services to their stated time, we'll do our bit with nice vehicles.
"We can have all the nice buses in the world but that doesn't matter if you can't go to a bus stop and get where you want to go on time. Everything else is window dressing."
LEZ talk, more action
McGlasson estimates that reducing congestion to the point buses run on time as they have during the pandemic could save Xplore Dundee up to £867,000 a year, with passengers' pockets standing to benefit from fewer fare hikes.
It also isn't too late, McGlasson continues, for the council to revisit its other highly criticised transport decisions to benefit the bus, such as the heavily criticised Low Emission Zone proposal which allows cars to continue using some of the city's – and Scotland's – most polluted streets.
City planners say motorist access to the Marketgait ring road and Lochee Road is too important to scrap – but McGlasson disagrees.
"To me the Low Emission Zone proposal wasn't bold enough," she says.
"It was pussyfooting around upsetting car users, still letting them get in the car parks.
"You think back to smoking, which is really bad for everybody's health, especially passive smoking when you're not getting a say in it, so we just banned smoking in public buildings.
"Do we need to be bolder, perhaps, in how we approach these things?"
Similarly, she was unhappy at Dundee City Council's decision to make all-day parking £3 throughout the Christmas shopping season last year.
The decision to cut daily rates by more than two-thirds encouraged shoppers to shop local rather than order online, but McGlasson says the gridlocked streets ground buses to a halt and drove her "insane".
"I remember our operations manager was out on the Nethergate and a lady was speaking to him at the bus stop asking why the bus wasn't moving. All he could say was just: look at the traffic. They literally couldn't move.
"Look at the difference a bus lane makes: for the Edinburgh Airport service, that bus lane is unbelievably great for getting people where they want to go on time. You see rows and rows of cars and you just shoot past them. That's where you want to be in the busy hotspots if you can achieve that.
"I don't think if you just keep caving to everything, you're going to make a difference in your cities. And I know politically that's a hard balance to make but we all just need to be a bit bolder."
But just how audacious can a local authority be? If it were up to McGlasson – now more than two years into the Xplore Dundee job – the sky would be the limit.
"If you wanted to be bold you would not have cars going into the city centre, at all.
"You would maybe have delivery vans or whatever, but you would literally have buses (and nothing else).
"Over the years the car has been given more priority than any other mode of transport. There's been more money spent on allowing cars to move around more readily, across the country (than on bus infrastructure).
"If you want a sustainable city, in terms of space, ability to move around, ability to access facilities and shops, to do so in a place with clean air and low emissions, you can't have that if you allow loads and loads of cars to freely move around and park and do whatever they want to do.
"It has to be active travel combined with public transport. And for us, in this city, that's the bus."
Dundee City Council's response
In response to McGlasson's comments, a spokesperson for Dundee City Council said:
"Dundee City Council is now moving to establish a Bus Service Improvement Partnership (BSIP) with local operators Xplore Dundee, Stagecoach and Moffat & Williamson.
"These partnerships are being created under the Transport Scotland Act 2019 and will  formalise the already strong relationships that exist between the local authority and bus industry partners.
"They oblige members to deliver on agreed commitments to enhance bus service provision in the city.
"Work to introduce a Low Emission Zone (LEZ) in Dundee, and all other cities in Scotland, has been paused by the Scottish Government.
"The shape of the LEZ in Dundee was still to be agreed and further consultation was required before any final decisions were made on zone boundaries.
"Immediately before lockdown, a joint meeting to discuss bus prioritisation projects had been held with the bus operators as the Council prepared the ground for an application to the Bus Partnership Fund.
"The Council is currently delivering on its Spaces for People projects and has bid in for a further £2m of funding from this source.
"The new 20mph zones that will take effect have been designed to have minimal impact on bus service operations."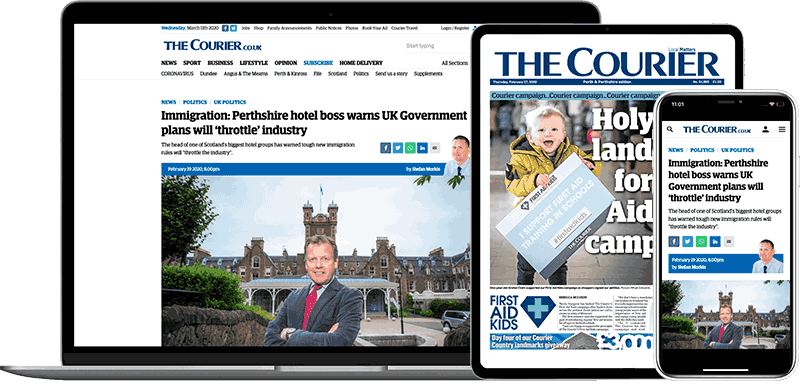 Help support quality local journalism … become a digital subscriber to The Courier
For as little as £5.99 a month you can access all of our content, including Premium articles.
Subscribe