A Dundee games designer has revealed his role in re-creating an American city for one of the biggest releases of the year – and the hometown "Easter eggs" he left for players across the globe to discover.
Michael Barclay, originally from Broughty Ferry, works in California for Santa Monica-based Naughty Dog, the company behind a string of blockbuster hits including this year's The Last of Us Part II.
Released during the coronavirus pandemic, it is one of the biggest games of the year.  The PlayStation 4 adventure picks up the story of Ellie, 19, as she seeks revenge in post-apocalyptic America.
Michael, 34, started his career in the games industry at Free Radical in Nottingham but his first release came as part of the team at Cohort Games in Dundee.
In 2016 he began working for Naughty Dog, the team behind the Uncharted and The Last of Us games.
He briefly worked on Uncharted: The Lost Legacy before starting on The Last of Us Part II.
The Abertay computer games technology graduate said being part of the blockbuster release has been a "huge privilege", adding: "It had been a goal of mine for years to work there, since The Last of Us was released and I realised no one else was making games like them."
Michael was given the daunting task of rebuilding downtown Seattle for the game – capturing it in as much detail as possible.
He describes the process of building environments for games as "quite cathartic".
He said: "I designed quite a few chapters in the game. It's difficult to describe them as levels because the game sort of flows as a story, so there's no real traditional list of levels like in, say, Mario.
"A designer at Naughty Dog in my position will design the spaces the player engages with.
"That also includes areas for combat and designing puzzles. Everything is a team effort, so the biggest part of the job is actually talking to other departments and figuring out who needs to do what to achieve something really great.
"The biggest space I designed was probably downtown Seattle which you get to explore on horseback.
"For that I spent a lot of time looking at reference for the city and figuring out how to rebuild it for the world of The Last of Us, which is post-apocalyptic, while also making it engaging to explore."
It is in the Seattle location where he managed to leave references – or "Easter eggs" – to his hometown of Dundee.
"I can tell you one, which is in the downtown Seattle level," he said.
"You find a list of codes that unlock certain areas and one of the codes is the Dundee area code 01382.
"It got spotted the day the game was released and posted to Twitter, but I hope more people got to find it for themselves in the game.
"Working in LA I go through waves of feeling a bit homesick from time to time, so I like that I get to do these wee call-outs."
The Last of Us Part II was released in June to acclaim from fans and critics alike – and has a 94% rating on Metacritic.
Within days of its release, more than 4 million copies had been purchased; making it the fastest-selling, first-party PS4 exclusive game of all time.
On playing a role in creating such a massive, and well-received, video game, Michael said: "It's a real privilege.
"Our games touch so many people who message us to tell us what they mean to them and how they've affected their lives.
"To be honest I'm mostly happy that I get to build the types of games I love, that just happen to also be enjoyed by millions of other people.
"It was a really refreshing realisation when I joined that everyone on the team is so driven to keep making things better, to keep improving.
"There's always nerves about whether your game is going to be a success or not, but one thing I think we always are is determined."
And he said that Dundee's gaming legacy has played a role in his career path, a journey he joked was also influenced by being "rubbish at football".
Michael added: "I was lucky to grow up around the time the games industry started to make an impact on Dundee.
"I think there was an early opinion that everyone was going to make a mint like Dave Jones, so there was always buzz around the industry's successes.
"Like almost everyone in Dundee we had a ZX Spectrum thanks to the Timex plant. I was a bit too young to appreciate it."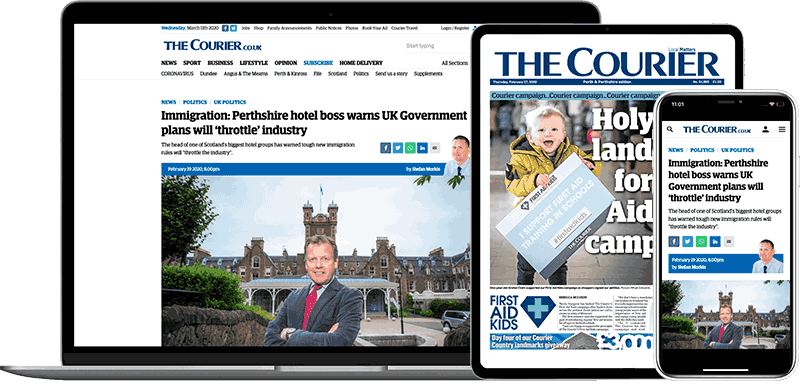 Help support quality local journalism … become a digital subscriber to The Courier
For as little as £5.99 a month you can access all of our content, including Premium articles.
Subscribe