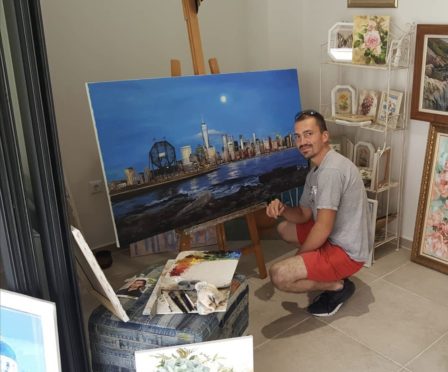 A Bulgarian artist who fell in love with Dundee while picking fruit on a Tayside farm has created a series of paintings to honour the "beautiful city".
Aleksander Buzilov came to Scotland to do seasonal work at Balhungie Berry Farm, Monifieth, and felt the spark of inspiration as soon as he took in his new surroundings.
He put paint to canvas to depict scenes of Murraygate, looking towards the Wellgate Centre, and the Tay Road Bridge.
The artist also creates photograph collages, and has produced one of the Tay Rail Bridge that shows buildings reflected on the river where the bridge's beams meet the water.
The image also features the city centre statue of Adam Duncan and people walking on the river.
Venturing further up Scotland's east coast, the painter's portfolio includes a study of Dunnottar Castle, on the outskirts of Stonehaven.
Mr Buzilov has been sharing his paintings, as well as works in progress, on his Instagram page.
He uses a mixture of materials, but his Scottish works have been predominately oil paintings.
Mr Buzilov said he was "happy to share" his "paintings and impressions of this beautiful city, Dundee".
He added: "I will try to publish new works."
Aside from his Tayside and Aberdeenshire endeavours, Mr Buzoliv's artistic output includes paintings of New York, Nessebar, Varna and Eilean Donan Castle, on the east coast of Scotland.
The creative Bulgarian is also known to try his hand at sculptures and has created a landscape inspired by one of the most famous artworks of all time — Vincent van Gogh's Starry Night.
Mr Buzilov said he has been "connected with creativity since I was a child" because he grew up in a family of artists.
"The art studio is my home. My first attempts with a pencil on paper I did at the age of six," he added.
"When I finished seventh grade in primary school I applied to the National School of Art (in Sofia, Bulgaria) and I started to develop professionally."
Michelle Porter, co-owner at Balhungie Berry Farm, praised Mr Buzilov's creative flair, describing them as "lovely pieces of Dundee".
She said: "I was particularly drawn to the one of the Tay Rail Bridge which I think beautifully represents the city.
"It shows a perspective of Dundee and Angus from someone not native to the town but who has clearly been inspired by it."