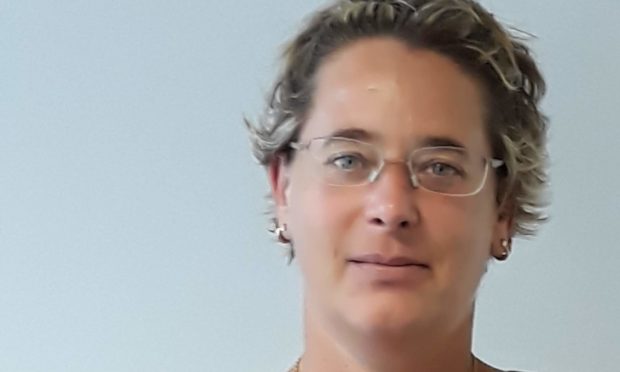 Michael Alexander speaks to German-born Perthshire-based engineer Tanja Waaser about her appointment as a visiting professor at Abertay University in Dundee.
In the 17 years that German-born civil engineer Tanja Waaser has been employed in Scotland's engineering and construction industry, she's worked on a number of high profile Courier Country projects including the dualling of the A9, the Almondbank flood defence scheme and the fixing of the collapsed, flood ravaged road at Dura Den in Fife.
Responsibilities held by the Associate Geotechnical Engineer, who works with Perth-based WSP, have included the management of over 20 staff, delivery of design packages for external and internal clients, business development and delivery of technical excellence.
However, the 47-year-old, who gained chartered status as a member of the Institution of Civil Engineers in 2010, says that being a woman – let alone a foreign one – in a male dominated industry has not always been easy.
Describing it as a "cut throat environment" where women rising to senior positions need "strong elbows and a really thick skin", she feels lucky to be working as part of a diverse team where women are well represented – not by design – but because they are the "best candidates".
The desire to inspire more female engineers is just one ambition Tanja has as she prepares to take up the prestigious role of Royal Academy Visiting Professor in civil engineering at Abertay University in Dundee.
The Mainz University, Germany, civil engineering graduate, who settled in Tayside after graduating with an MRes in Geotechnics from Dundee University in 2002, was invited to apply for the role by former work colleague turned Abertay lecturer Andrew Minto.
The "industry-into-academia" initiative aims to utilise the experience of visiting professors to enhance student learning as well as the employability and skills of UK engineering graduates.
"I will be available to the university one day per month to go and either give a lecture or work with the university on their new masters degree in civil engineering," she explains.
"Basically I'll develop a group exercise to simulate a real life scenario where you have a client and they want to build something – making the students realise they are going to have to work with different disciplines.
"You split the students into different groups – some look at drainage, some look at structures, some look at ground investigation or geotech, and some are project management – and basically they have to develop a solution and a proposal by working together, contributing their area of expertise and communicating with all the other disciplines.
"Basically it's like a real life exercise. Hopefully they then understand the importance of not just focusing on the special area they are interested in but also needing to understand the parameters of other disciplines."
Tanja says Abertay hoped that by tapping into her real industry experience, they can tailor their masters degree to make it relevant to the real world.
They will also be hoping to learn from her lifelong interest in civil engineering which goes back to childhood.
Growing  up in Meerbusch in the Lower Rhine region of West Germany, Tanja was just four years old when her father, who was head of construction at Dusseldorf Airport, took her out in the middle of the night to supervise the resurfacing of the runway.
Her uncle, who was head of the local council construction department, was responsible for big tunnels and bridge projects in Dusseldorf, and would also take her out to see the projects come to fruition.
"I kind of grew up on construction sites," she smiles.
"Ever since I can remember, whenever there was a big construction going on, I was always on construction sites and on big machines.
"The guys working there thought it was great having a wee girl working on a big machine – you wouldn't be able to do it nowadays with health and safety and so on.
"But for me it was brilliant. I just don't know anything else. It was clear I was going to go into it!"
Tanja's European upbringing has given her a perspective on international affairs and perhaps not surprisingly she has a keen interest in Scottish, UK and European politics.
As a child of communist parents and grandparents, Tanja, who now lives in Meigle, had a "different perspective" of the East and a "bit of a difficult relationship" with the West at the height of the Cold War.
When the Berlin Wall came down while she was on a school trip to London, she remembers how it was a "great surprise, so unexpected and totally surreal" as she watched developments unfold on TV.
Despite the challenges that life throws up, however, hard work and sheer determination has got her to where she is today, and she feels particularly strongly about inspiring more girls and women to follow a civil engineering career.
"A lot of our female engineers are involved in promoting STEM activities," she adds.
"We are going into schools and encourage girls to go into science, go into engineering, talk to them about how the work is and what we do and how important it is.
"We do a lot of STEM activity. I think the more women are getting profiled in higher positions and leadership roles, the more it is encouraging – I hope – girls to go into it."
Irrespective of gender, perhaps the greatest satisfaction, however, comes from making a real difference through the engineering projects themselves.
"The A9 dualling is probably the main, most satisfying one I've been involved with," she says.
"It's one of the big infrastructure schemes that will transform Scotland and open up the whole Highlands for economy and living.
"I've done a lot of travelling to the north of Scotland and it can be very difficult and very long driving on a single carriageway for such distance.
"Reducing the travel time to go to Inverness is going to massively open up economic opportunity."
Andrew Minto, lecturer in civil engineering in the School of Applied Sciences at Abertay University said: "I think Tanja's experience in industry, and enthusiasm for helping students and engineers in her team will be invaluable to the students.
"At Abertay, we are really proud of our record of preparing students for industry.
"With the recent move from a BSc (Hons) course to a BEng/MEng, the course has changed a bit, and we still want to strive to ensure that our students are as prepared as possible for working in industry once they have left us.
"We already offer a guaranteed 12 week work placement in Year three, which gives our students great real-life experience, and what Tanja's appointment will allow us to do is make sure that our Year four and Year five Group Project modules are as related to a real-life design scenario as possible. We can tap into Tanja's experience and expertise to help design these modules."
Andrew added: "Having first worked with Tanja when I was a graduate engineer seven years ago, I know first hand how much value she will bring to the course.
"Tanja is actually my Institution of Civil Engineers approved Mentor helping me to achieve my professional qualifications – her enthusiasm and support for engineers working in her team has always been second to none and I have no doubt that she will put the same effort into helping out our students as much as she can."