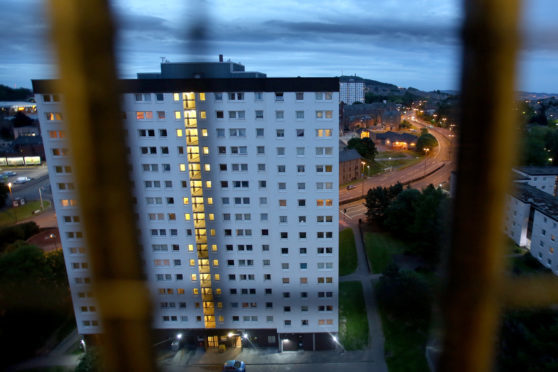 Residents in a Dundee neighbourhood say they fear for their safety after a woman found wandering in a duvet told police she had been raped.
Officers are investigating after the distressed woman was picked up on Kirk Street in Lochee late on July 11. She was wrapped in a duvet and spoke with a strong Liverpool accent.
Witnesses said they saw the 20-year old enter one block of flats on the street before leaving and going towards another. She then repeatedly banged on a back door, screaming to be let in.
The street is near the Adamsons Court and Elders Court multistorey blocks, where one resident said neighbours were stunned.
"There is a lot drug dealing going on in this area, so when I heard the door banging I just assumed it was something to do with people like that," she said.
"I had no idea until the police said later what it was. I can't help but think that we should have let her in now, but the truth is you just don't know what people are up to round here.
"Once I heard what had happened, I couldn't concentrate on watching television or anything like that. I was in a daze."
Police were on the street making enquiries on Sunday and Monday.
One local mum said: "It's really worrying that this would happen. I know this isn't the safest area of Dundee, but given the guy hasn't been caught yet I have been keeping my door locked.
"I have a friend further up in Lochee and another just a few blocks away. We would usually walk to each other's places in the evening, but we won't be doing that until the guy is caught."
Detective Inspector Marc Lorente, of Dundee CID, said: "The woman would have been very distinctive as she was wrapped in a duvet with a strong Liverpool accent and clearly very distressed just before midnight on Saturday.
"We're trying to establish the full circumstances so we're appealing to anyone who has any information or saw anything suspicious in the area to contact us."
Anyone with information is asked to call 101.