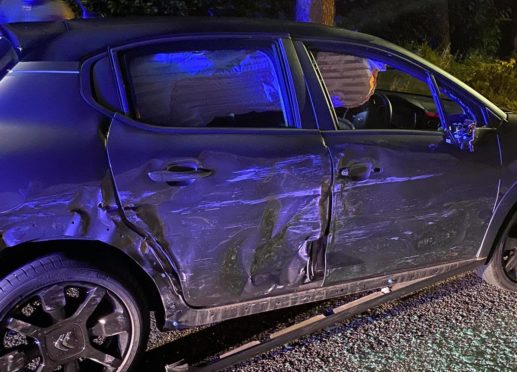 A mother has told how she and her son were nearly killed when their car was struck by a hit-and-run driver travelling on the wrong side of the road.
The collision happened on Dundee's Rosemount Road, as Karen Hutchison, 57, drove her son Callum home from work.
Karen said she tried to swerve out of the way when she saw the other car "racing" towards them.
And after crashing into them, the other motorist did not stop to check they were unhurt, she said.
The accident took place near the family's home, just after 11pm on Friday.
Karen suffered injuries and internal bleeding to her arm. Callum, 25, was luckier physically, but is struggling mentally after hearing his mother's screams in the car.
Police officers called to the scene told Karen's daughter Chloe they would have likely died if the collision was head on.
Chloe, 25, was in Arbroath when she received a call from a friend telling her to call her brother. She raced back to Dundee to find police had already arrived at the accident, near the family home.
She said: "My brother told me when the airbags went off he just heard mum screaming and didn't want to look for fear of what state she was in.
"He couldn't get the door open at first and had to snap it off and then carried my mum out of the car."
Chloe said: "A neighbour, who is a nurse, came out and made a sling for my mum out of towels.
"I took them to Ninewells but she was still in shock. Because of the coronavirus restrictions, I wasn't allowed to wait with my mum in the hospital reception.
"I told my brother to check himself in, so mum wasn't waiting alone. He didn't want to check himself in, because he didn't think he was badly hurt, but I told him he really needed to be seen."
An X-ray revealed Karen's fractured elbow and bone fragments in her arm. And to make her ordeal even worse, she suffered a small seizure while receiving treatment and was kept in overnight.
Chloe added: "She's still in a lot of pain and woke up on Sunday with more bruising on her ribs.
"When I drove her back from the hospital, she was nervous to get in the car. We were supposed to drive to Newcastle to see family in a few weeks, but we can't do that now."
She added: "I'm happy she's home and safe, but she wakes up really sore. It's tough to hear her in pain.
"I think my brother is still in shock. I took him for a coffee on Saturday and he broke down saying he can't get the sound of mum crying out of his head. And he's not one for crying.
"An officer told me if it was head on they would have been dead.
"For the other driver knowing what they did but not stopping to see how serious it was is unthinkable."
A neighbour has been in touch with Chloe, offering their CCTV in the hope it can help catch the driver. A taxi driver has also reported dashcam footage of a car nearby being driven with the airbags deployed.
Chloe added: "Hopefully someone saw something, like a car parked on their street that is badly damaged, to help catch the driver.
"I am grateful to everyone who stopped and helped my mother and brother."
A police spokesman said: "Police received a report of a two car crash on Rosemount Road, Dundee around 11.10pm on July 17.
"Officers attended and a woman was taken to Ninewells Hospital for treatment. Enquiries are ongoing."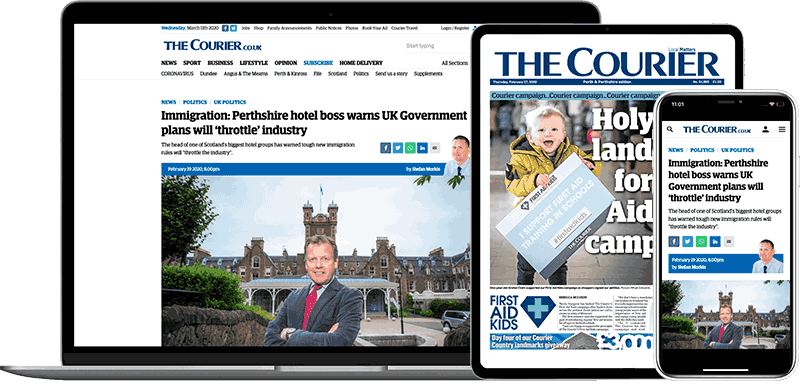 Help support quality local journalism … become a digital subscriber to The Courier
For as little as £5.99 a month you can access all of our content, including Premium articles.
Subscribe