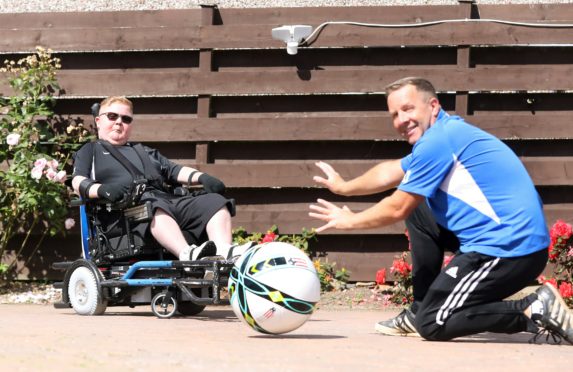 A talented teenage powerchair footballer shielding from Covid-19 has turned his driveway into a training pitch as he counts down the days until he can star again for one of the UK's top teams.
Logan Mitchelson, 16, who plays for Northern Thunder in Newcastle, as well as the Scotland national team, has completed more than 125 sessions in the front of his home.
The Monifieth High youngster, who has muscular dystrophy, started shielding on March 10 but has not let lockdown affect his love of the game.
With dad and coach, Gareth, he has completed two-hour sessions on most days using innovative drills.
They have set up goals, target cones and netting across the garden and driveway of their Monifieth home to prevent the ball from rolling onto the road.
Logan is one of six players for Northern Thunder, who compete in the English top division.
He and Gareth would usually make the seven-hour round trip to Tyneside at 5am every Saturday to train as the club plays at a higher level than any other in Scotland.
Gareth said: "We are very fortunate we can train in the driveway. I think he would be seriously struggling without it.
"To know he's getting out to do it a few hours every day has helped a lot. It has been tough though; it has been such a long time.
"He loves the sport. It is the only one he has ever played."
The costs involved in keeping up the sport can be a challenge for the family due to fuel as well as accommodation.
Regular tournaments both within the UK and abroad for both club and country, as well as maintenance on his £8000 sports power chair, add to the expense.
They are actively looking for a sponsor to help Logan, who spoke his pride playing for Northern Thunder, which features three England national team members.
He said: "I feel privileged and honoured to be part of such an awesome club.
"Training alongside my powerchair heroes each week is just amazing and forces me to practice harder and up my game every week.
"I just can't wait to getting back to football when the lockdown is over".
Powerchair football provides people with a high level of impairment to access the game of football.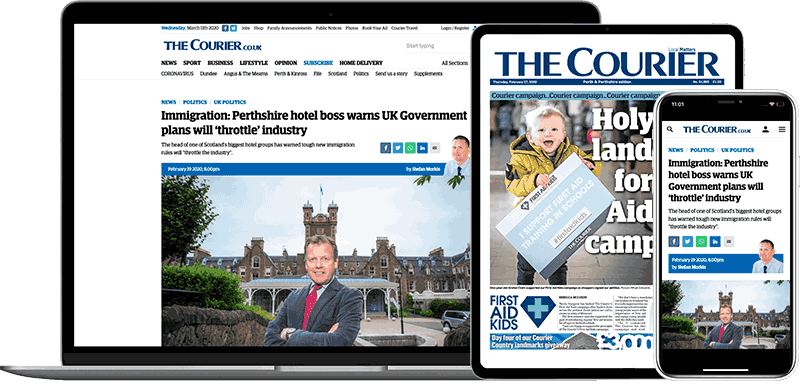 Help support quality local journalism … become a digital subscriber to The Courier
For as little as £5.99 a month you can access all of our content, including Premium articles.
Subscribe