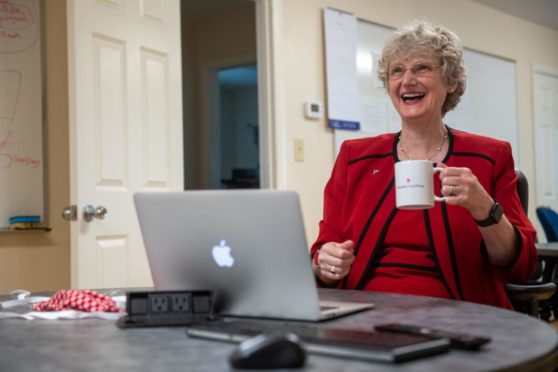 A graduate of Abertay University graduate has become the first woman to be named president of a university in Virginia.
Dr Alison Morrison-Shetlar is also the first person born outwith America to take on the role at University of Lynchburg.
Dr  Morrison-Shetlar graduated with a PhD in biomedical sciences in 1984, when Abertay was still known as Dundee College of Technology.
She officially becomes president of the University of Lynchburg on Saturday and said her time in Dundee helped propel her to her career in academia.
"Like many first-generation in college students, I struggled to find my voice initially," she said.
"It was the staff that provided me with an intellectually challenging environment that helped me find that voice and further develop my passion for biology and chemistry.
"They encouraged me to continue my education and earn my PhD, giving me my first taste of teaching.
"It was through these experiences that I knew I wanted to stay in education, and provide the same educational experience for others and make a difference in their lives."
Dr Morrison-Shetlar moved to America in 1993, after enjoying a successful career in Europe.
She was founding chairwoman of the molecular biology unit at the Max Planck Institute in Dortmund, Germany and a teacher-scholar at Bochum University, and at the Kennedy Institute of Rheumatology in London.
In the US, she has held teaching, research, and administrative positions at colleges and universities in Maine, Connecticut, Georgia, Florida, and North Carolina.
She added: "Now in my 36th year in higher education, living, teaching, and being involved in research in three different countries, I look back on my alma mater as the place that opened doors that I didn't know existed.
"They gave me the confidence to walk through these doors, even if I wasn't too sure what was on the other side. The faculty and staff taught me about cultural diversity, the ability to think critically, how to develop strong networks and reach my maximum potential.
"I very much enjoyed being at Abertay for both my BSc in Biology and Chemistry and my PhD.
"The faculty were true mentors and supported our learning using innovative experiential learning strategies in the classroom and in the laboratory.
"My peers were from diverse backgrounds and we became a close knit group from day one until the end of our four years at the college."