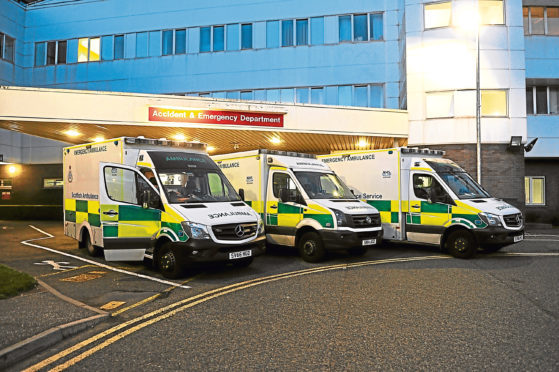 Tayside health bosses have set up a taskforce to address repeated failings in the way hospital staff handle patients' money.
The health board has accumulated more than half a million pounds by fulfilling its legal obligation to provide safe custody for money handed in by patients, in the possession of unconscious or confused patients, or found in the possession of patients dying in hospital or dead on arrival.
Managers have set up the group, which will meet for the first time next month, after external auditors revealed problems with the way ward staff collect, record and store patients' money.
The findings have been circulated to the head cashier, depute head of facilities and the head of nursing as part of "immediate action" taken to rectify the problems.
Patients' private funds at the health board have grown from £491,783 to £548,343 in the past year.
External auditor Sandy Fyfe, Morris & Young, looked at Murray Royal, Perth Royal Infirmary and Ninewells hospitals.
His report said: "From our testing carried out at ward level, we did not receive sufficient documentation to assure us that there are no misstatements arising due to fraud or error."
The report said "conflicting pressures on clinical staff", as well as Covid-19 restrictions, hampered staff efforts to follow the rules.
Dr Robert Peat, chairman of the audit and risk committee, said: "Last year, we expressed concern about some of the issues that were highlighted.
"Morris and Young again found that the same weaknesses occurred and we expressed that disappointment that the changes had not been embedded in practice and were highlighted again in this year's audit."
Health board chairwoman Lorna Birse-Stewart said: "It's even more disappointing given the context of the rest of the audit report being so positive."
Associate director of finance Robert MacKinnon will lead the group.
Board director of finance Stuart Lyall said: "We do have to stress the circumstances that this audit was undertaken.
"There was no evidence of any loss or misstatement. The accounting records and true and correct. The processes in the cash office are adequate and working properly.
"There is this issue about being able to obtain evidence and with the Covid-19 situation the external auditor was not able to source additional evidence.
"However, there are one or two issues that we need to address.
"I gave my commitment as director of finance to the audit committee that I will ensure that each of these issues are addressed in full over the next few months," he added.