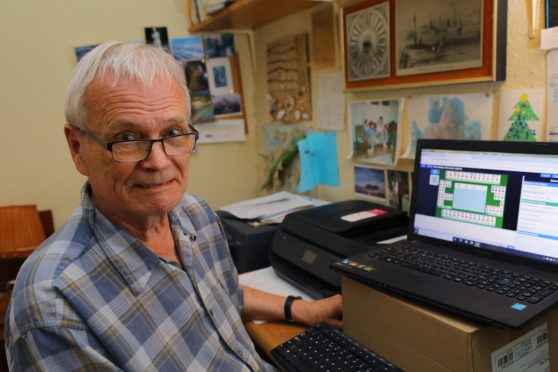 Even a hurricane could not stop determined Tayside bridge players who have stuck with their hobby during lockdown in a move which has seen online matches survive the global pandemic.
The 75-year-old Dundee Bridge Club has proved one of the country's most active during the crisis.
Board member Wyllie Fyfe said activities had quickly moved online when lockdown was imposed and have been a hit with players of all abilities.
It has seen Tayside players compete against each other on  Zoom or the main online bridge platform, which can have upwards of 10,000 players involved in thousands of games at any one time.
The 81-year-old said: "Over the summer sessions for less experienced players have also been taking place in groups of four.
"On a recent occasion one of our regulars wasn't available and she asked if another player could join the group.
"We agreed and discovered he was in New York State, who then found himself in the middle of a hurricane but despite these drawbacks he still managed to participate online with three members based in their houses in Dundee without too many interruptions."
He said: "When the club  is open we normally have sessions around six times a week and hold classes there as well.
"At the moment we run three sessions a week online for members and have also had matches with a number of other clubs from the Kyle of Lochalsh to Berwick."
The pandemic period also saw Dundee Bridge Club member, Dr Joan Forsyth appointed as President of the Scottish Bridge Union, chairing the SBU's annual general meeting online during which she praised other clubs in places including Perth, St Andrews, Montrose and Arbroath for also running online sessions.
Officials are waiting patiently for the signal which will allow them to re-open their Perth Road building to a membership of around 250 but in the meantime, are preparing to launch online courses for newcomers to generate more interest in the centuries-old pursuit.
Wyllie said that although bridge is regarded as a game for seniors, with evidence to support it being good brain exercise to help combat conditions such as Alzheimer's, the Dundee club's ambition is to encourage new younger players to take it up.
"We will be running online courses for beginners and improvers and hope to start those in September," he said. "People have been showing an interest, so they can contact us through the club website if they would like to get involved.
"What had seemed to be a drawback has led to a number of more open and exciting developments."