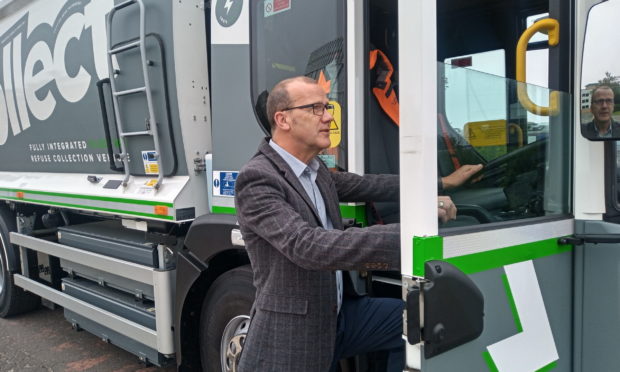 Dundee can add another notch to its green credentials with the successful trial of a new battery-powered bin lorry.
The Dennis Eagle refuse truck is the second of its type to hit city streets in preparation for two similar vehicles going into service after approval was given to buy them late last year.
Electric bin lorries are cheaper to run, fuel and more environmentally friendly than their diesel-powered predecessors.
City development committee convener, Councillor Mark Flynn said: "Not only are they good for the environment, they will also save money.
"Not just in fuel costs but also when compared with their fossil fuel counterparts they're cheaper on servicing and regular maintenance, so this is a big win any way you look at it."
Trials of a new type of charger were also completed during the coronavirus lockdown period.
Deputy convener Steven Rome said: "In January we agreed that new electric commercial vehicle charger provision should be provided at Greenmarket and council depots at Marchbanks HGV and Logie Avenue as well as Dawson Park.
"Despite the challenges faced during three months of total lockdown our contractors Swarco have done a great job of getting the 150kw charging provision at Greenmarket installed and successfully tested."
Transport Scotland has invested in the commercial vehicle charging infrastructure, which is part of a wider scheme of EV provision featuring a pair of fully electric minibuses, a large mechanical sweeper and an intercity e-coach.
All of those vehicles are expected to begin operating later this year.
Dundee has more than 1,000 EVs registered for the council's free parking scheme and the authority's own fleet of more than 100 is the most of any UK council.
The city's first charging points were introduced in 2011 and now number almost 200, with Dundee registering another UK first last year when a 20-bay solar powered hub and battery storage system was opened.
The hub at the top of Greenmarket multi-storey car park is the first of three in the city sited to encourage commuters to charge during the day and residents to power up their vehicle at night.