VIDEO: Tayside shops get in the groove as Record Store Day returns with a difference due to coronavirus
Not many things in life are worth a nine-hour wait but some vinyl enthusiasts are happy to queue through the night for the chance to buy limited edition releases.
Two years ago the quest for rare records caused one man to catch a train from Inverness to Perth and then start a queue at 11pm the night before Concorde Music in the Fair City opened.
Last year the queue started at a more reasonable time – midnight – a mere eight hours before the shop opened.
Record Store Day is the most important 24 hours of the year for independent music shops and has been credited for the resurgence in the vinyl format.
Usually held in April, Covid-19 pressed the pause button on this year's event.
With retailers open again, this year's music celebration will be held over three Saturdays in August, September and October.
Garry Smith, who owns Concorde in Perth with his wife Hazel, said last year's queue had around 100 people at opening.
He expects customers to keep two metres apart in a queue that will snake around a nearby car park when the event returns on August 29.
"It's by far the busiest day of the year for us and we don't know if we'll get the same demand as normal," he said.
"With it being held over three Saturdays, it perhaps won't have the same impact but I know people will still be queuing early.
"The people who are desperate tend to queue from midnight, the really keen ones might be down at 3am or 4am and then a lot more join at 5am or 6am.
"Everyone will be served behind the counter, which is normal for us, so we'll be able to keep people socially distanced as they wait in line."
Most sought-after releases next Saturday include limited edition records by John Lennon, David Bowie, The Chemical Brothers and Robyn.
Dundee retailer Assai has changed its process for Record Store Day this year, with people asked to book slots to be served at the company's industrial estate warehouse, instead of its city centre shop.
Owner Keith Ingram said he felt he had "no option" but to keep staff and customers safe.
He said: "Last year we were still in our old Broughty Ferry Shop and the queue must have been 80-people long.
"To manage a queue like that in Union Street would affect our neighbours and the amount of staff we'd need to deal with it.
"The last thing we wanted was people becoming ill or criticism of people not being socially distanced in a queue.
"We also had some customer feedback that they weren't planning to participate this year because they didn't feel comfortable.
"It is a shame – the buzz on the day is incredible, people in the queue chatting, sharing stories, panicking about missing out on a release if they are tenth in line…
"People can book a five-minute slot from 8am and there will be a drive-up option and a walk-up option.
"Some retailers are just putting everything online on the day but this means we can still give people a personal service and look after our customers in a safe way."
Le Freak Records on Dundee's Perth Road plans to limit the number of people in store to three at a time. Throughout the day it will live stream DJ sets from the shop.
Neil McLeod, owner of Mo' Fidelity Records in Montrose, said it would also be offering the new releases by pre-booked appointments.
He said: "We've ordered less than we would if it were a normal RSD and we're not making it an event at all, which seems the sensible approach."
Record Store Day is the biggest trading day of the year for many independent record stores.
Usually more than 100,000 LPs and 30,000 singles are sold over the course of the weekend.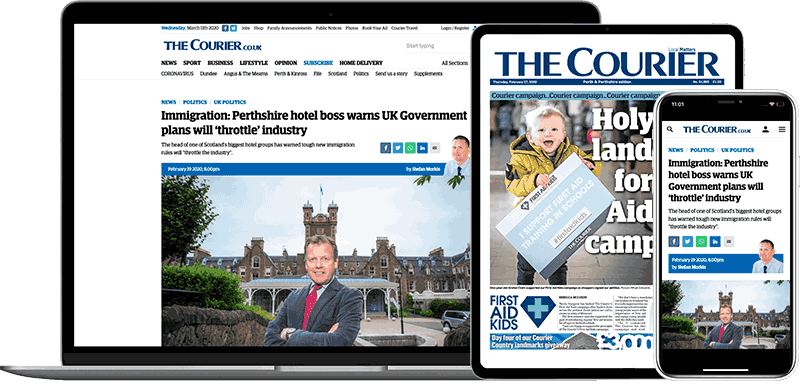 Help support quality local journalism … become a digital subscriber to The Courier
For as little as £5.99 a month you can access all of our content, including Premium articles.
Subscribe