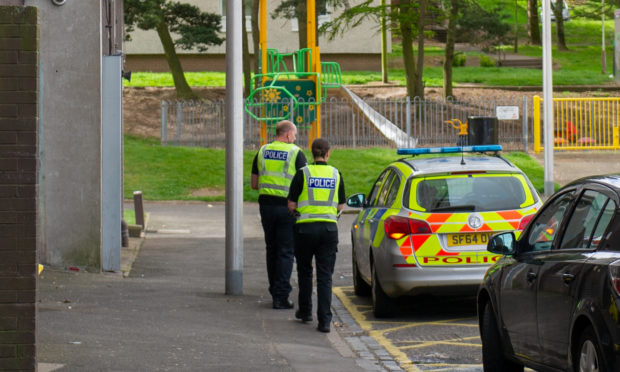 Police are targeting a surge in drugs-related violence in two Dundee communities.
Officers are devising action plans for the Strathmartine and Lochee areas in the city in attempt to stamp out serious assaults linked to the illegal trade.
The work comes amid growing fears about the influence of a so-called "county lines" organised crime gang from England that is suspected of working in the city.
The police concerns are outlined in the Dundee division's quarterly update to councillors.
Chief Superintendent Andrew Todd will tell representatives at a meeting later today [Monday, August 24] that his officers are continuing to investigate "a serious and organised crime group who are involved in county line and cuckooing activity predominantly in Dundee."
He said officers were connecting the group to crimes such as "cukooing" – where drug dealers take over the homes of vulnerable people and use them as a base for their criminal activities – and even attempted murder.
Councillors will be told a recently created Violence Prevention Board is establishing trends and looking for opportunities to reduce violence and drug related crime.
Action plans specific to Lochee and Strathmartine are also being drawn up as part of the anti-violence work.
In his reporrt, Mr Rodd says: "Investigations of these nature continue to be challenging, complex and time consuming.  Some persons are often not willing to detail what happened to them for fear of reprisals."
The overall number of serious assaults in the city has fallen from 46 to 28 from April to June this year with an 86% detection rate.
But Mr Todd will warn serious violence levels per head of population are still in excess of those elsewhere in the country.
Lochee Labour councillor Michael Marra said there were "long-standing issues of drugs and associated violence" in and around Elders Court and Adamson Court in Lochee.
He said: "I have discussed these with the police on numerous occasions.
"Our local police team have increased their visibility in the area and are intervening to prevent incidents wherever possible.
"This means getting hold of those individuals who are a danger to others. I very much welcome this kind of proactive policing.
"I believe it is what the community wants and needs," he added.