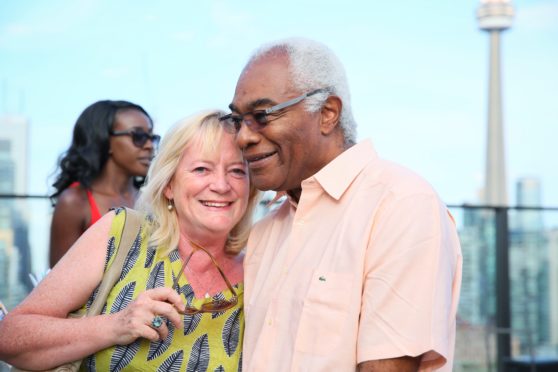 As Wuthering Heights novelist Emily Brontë once wrote, "Whatever our souls are made of, his and mine are the same."
For Tony and Liz Smart, shared values rather than differences are the reason behind their long and happy marriage, which recently passed 45 years.
Like their long-lasting love story, their union was a rare event for the time – a Scottish interracial marriage.
Thanks to a photograph of their Dundee wedding published in The Courier the next day, Liz's family received hate mail and there have been difficult moments for the couple and their children over the years as a result of their perceived differences.
Liz, 65, from Dundee and Tony, 73, from Jamaica first met when Liz's older sister brought Tony to spend Christmas with her family, after meeting him in a shared class at university.
"I came over from Jamaica in 1966 to study at Edinburgh Uni," explains Tony, a retired oral and maxillofacial surgeon.
"I was the only black person in my class, and there were times where there were unpleasant racial episodes for me.
"But I was lucky really – I had a lot of friends from the Commonwealth through the YMCA and I was even luckier when it came to the support network of Scots I built through Liz, especially my in-laws."
Indeed, so happy about their daughter's relationship with Tony, Liz's parents hid the hate mail they received about their marriage for 20 years, a kind act of which the couple are proud.
"We were really happy together, and because my family were so supportive of the union, it made things really easy for us," says retired high school teacher, Liz.
"When our children endured name-calling in the past too in Scotland, it was my dad who always gave them the best advice on how to deal with it.
"He would explain that it was because of their nice clothes and dresses that people were probably a little jealous, so that's why they were calling them names. He was a wise man."
The couple now live in Toronto with their family; daughters Sarah, 36, Catriona, 39, and son Matthew, 42, as well as their three grandchildren.
"There were times shortly after our marriage that we found things a bit difficult in Scotland for many reasons, so we decided to move to Jamaica, then after that, we moved to Canada," says Liz.
"We still love Scotland though, and come back every year to visit.
"Especially Dundee and we love Skye."
In 2001, just 2% of all marriages in the United Kingdom were inter-ethnic.
A decade later, the Census showed a significant increase and almost one in 10 people in Britain were either married or living with someone from a different ethnic group.
So do Liz and Tony think attitudes are changing now for the better?
"Things are definitely better now compared to how they used to be," says Liz.
"But when you see what's happening in America right now with the protests and Black Lives Matter movement – I never experienced anything like that – but it means there's still a long way to go" adds Tony.
Tony and Liz's daughter Sarah says her parents have been a huge inspiration for overcoming racial prejudices she has faced.
"Growing up, of course there were a few insults thrown my way. It would bring me down, but my parents were very good at reminding us of who we are and that we are unique in our own way," explains Sarah, a lawyer.
"My mum would say to us 'it's not your problem, it's their's'.
"I think that helped ground me, and especially with all that is going on these days, it's easy to feel upset.
"If it weren't for people like my parents back in the day, where things were much scarier, I'm not sure where we would be.
"My parents have been a huge inspiration to myself and my brother and sister. You can't let these people bring you down. Not now, not then, not ever."
Liz and Tony's anniversary was celebrated this month with a special gift of the original wedding picture in The Courier being framed and given to them as a surprise by their children.
So now, after so many years together, what is it the pair love most about each other?
"I like the way he's very steady," laughs Liz. "He has a really good disposition, he's always been positive and interested in the world around him and very well read and well informed."
"She's very generous kind, wise and a good counsel to have on board. She's a great mother and a superb grandmother," says Tony.
But there's one thing they both love equally about the other, a shared value in the face of potential adversity: "We've always had each other's back."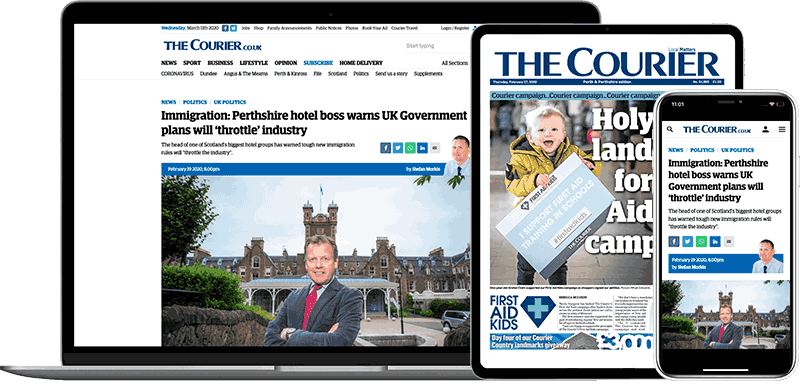 Help support quality local journalism … become a digital subscriber to The Courier
For as little as £5.99 a month you can access all of our content, including Premium articles.
Subscribe