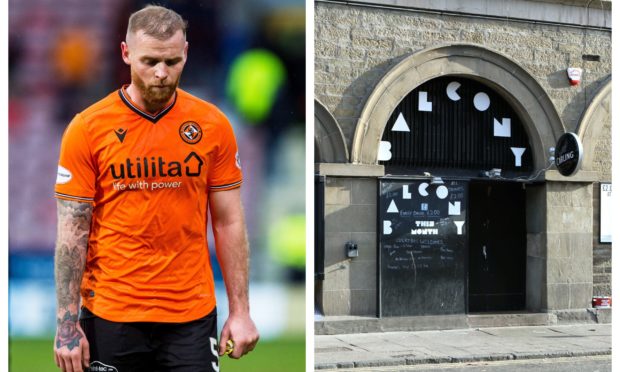 A complaint has been made to Dundee United after one of the club's star players reportedly breached coronavirus rules in a taxi bust-up.
Mark Connolly, 28, was said to have acted aggressively and refused to wear a face covering in a taxi following a night out in Dundee city centre.
The Irish centre back and another man connected to the club were picked up in the early hours of Monday after visiting Balcony Bar in the city's Ward Road.
It is understood the pair hailed the taxi on the street before the altercation happened.
The taxi driver has now lodged an official complaint with the Tannadice club, which is being investigated.
The United pair are understood to have spent several hours inside the popular bar, known for its rowdy karaoke nights pre-coronavirus.
They were among the last to leave the pub, which was reportedly busy before shutting at 2.30am.
The taxi driver's complaint, seen by The Courier, said both men were visibly drunk and Connolly "appeared unwell".
"At approximately 2.40 am Monday I picked up Mark Connolly and another man from the Balcony Bar in Ward Road," the complaint read.
"Both were the worse for wear with drink.
"Connolly was particularly bad and appeared unwell. He was shivering, snorting, coughing and sniffling constantly.
"I asked him to put a face mask on but this only drew abuse and threatening behaviour from him.
"This escalated as the journey progressed and was only calmed by the other passenger removing him from the car.
"After dropping them off my car required to be sanitised and valeted before going back into service.
"As a consequence not only has my health been put in jeopardy but I have suffered financial loss."
SEAN HAMILTON: Coronavirus common sense did not prevail – and Dundee United's Mark Connolly will have to answer for it
The bar's management say the men were "perfect gentlemen" and staff had no issues with them before the alleged confrontation outside.
A staff member said: "They certainly never gave us any issues and they followed all the rules and social distancing.
"They waited for their table to be prepared and cleaned for them and they never complained once about any of the rules.
"I couldn't say a bad word about them when they were on our premises. It's not the first time they've come in here."
Face coverings became mandatory on Scotland's public transport in June to help stem the spread of Covid-19.
It includes trips on buses, trains, trams, taxis and planes and ferries.
Only children under five and people with certain medical conditions are exempt from the rule.
Tony Asghar, Dundee United's sporting director, told The Courier he has launched a full investigation into the complaint.
It comes just a few weeks after eight Aberdeen FC players breached coronavirus restrictions by visiting a bar in the north east city.
Two of the players tested positive for Covid-19 after the bar was identified as the source of an outbreak, leading to fixtures being cancelled.
A full lockdown of the city followed the incident and the actions of the eight stars were condemned by Scotland's First Minister Nicola Sturgeon.
Celtic defender Boli Bolingoli also broke the rules when he travelled to Spain, did not isolate and then played at Kilmarnock.