Staff and shoppers gutted as Dundee fashion store closes its doors for final time
One of Dundee's most popular fashion stores has closed its doors for good.
Customers visited Zara, located on the city's High Street, for the final time on Thursday as the branch ceased trading.
Staff and shoppers have been left devastated after the shop was axed as a result of the impact of the coronavirus pandemic on the business.
The closure was officially confirmed by the Spanish fashion chain on Thursday evening.
A spokeswoman for the company said: "We can confirm that the store's last trading day is today."
It has been described a major blow to the city's ailing high street and comes despite a petition to save Dundee's Zara from closure reaching more than 1200 signatures.
Customers told one of Dundee's major fashion shops is to close next month
The shop occupies a prominent spot at the junction of High Street and Commercial Street.
The branch operated successfully at the location for about 15 years and was one of the busiest stores on the street.
When businesses reopened in June following the easing of strict lockdown measures in Scotland, a large queue of shoppers formed outside Zara ahead of its reopening.
On Thursday, Dundee City Council leader John Alexander said: "This is devastating for the high street and particularly for those who are going to be directly affected.
"It's a reminder of how precarious things are for the retail sector, small or large and why all of us must do our best to support our local shops.
"The ending of the furlough scheme may well contribute to the further reduction of jobs across Scotland and I would back those calling for it to be extended.
"Whilst Covid-19 is clearly a huge part of the current problems, there has been a protracted decline on high streets across Scotland as a result of changed shopping habits for years now."
The SNP councillor added: "Almost all of us are guilty of purchasing things online but in doing so, we are potentially contributing to the closure of physical shops.
"If shopping habits don't change, the sad reality is that it may not be the last. 'Shop local' doesn't just mean independent businesses, it means all of the businesses that exist in the city."
In June the owner of Zara, Inditex, said it will close as many as 1,200 stores around the world as the clothing retailer tries to boost online sales during the chaos wrought by the Covid-19 pandemic.
Inditex said it would "absorb" between 1,000 and 1,200 mainly smaller stores, with losses concentrated among older shops from brands other than Zara.
The Spanish company's other brands include Bershka, Pull & Bear and Massimo Dutti.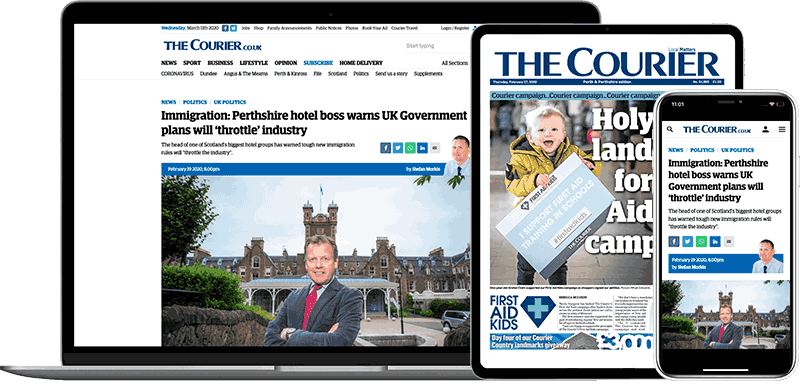 Help support quality local journalism … become a digital subscriber to The Courier
For as little as £5.99 a month you can access all of our content, including Premium articles.
Subscribe