Dundee University scientists are part of a £26 million international partnership project to enhance the research capabilities of the Large Hadron Collider.
Buried deep below the border of France and Switzerland, near Geneva, the world's largest and most powerful particle accelerator will receive a major upgrade to escalate its research capabilities.
It is the latest stage of studies around the fundamental structure of the universe and the subatomic collisions which happened in the wake of the Big Bang.
Development of a tiny autonomous robot, which goes to work inside the LHC, has been an element of the Tayside involvement in the scheme.
Physicists hope the overall project will unlock new secrets about the Higgs boson particle, discovered in 2012 at the CERN (European Organisation for Nuclear Research) facility, and help in the pursuit of evidence of dark matter.
The latest project will increase the number of particle collisions by a factor of 10.
UK industry is to deliver hardware for the upgraded collider and the Dundee University team is leading development of a package around laser-engineered surface structure within the LHC – a 27-kilometre ring of superconducting magnets in which particles whizz around at close to the speed of light.
Due to the particles being positively charged, they attract and pull electrons, which are negatively charged, from the inside of the machine.
Professor Amin Abdolvand is leading a team of Dundee University researchers harnessing technology whereby a laser is used for precision structuring of the accelerator beam screens to prevent unwanted particles from being released into the LHC.
Their work is aimed at cutting down on the risk of an "avalanche effect" of secondary electrons which result in higher heat loads and bring huge cost implications for the LHC process.
Prof Abdolvand said: "Our laser technique puts microscopic spikes covered in nanostructures into the surface of the beam screen and this acts to trap electrons that are being generated inside the machine.
"Together with CERN and a company from Switzerland, we developed a robot that is only 35mm tall and 140mm long and can drive autonomously inside the LHC's beam screens during shutdowns to perform the laser structuring process."
A successful initial phase test has already been completed and the Dundee team's focus will now move onto a number of LHC beam screens before tackling critical areas of the world's largest machine.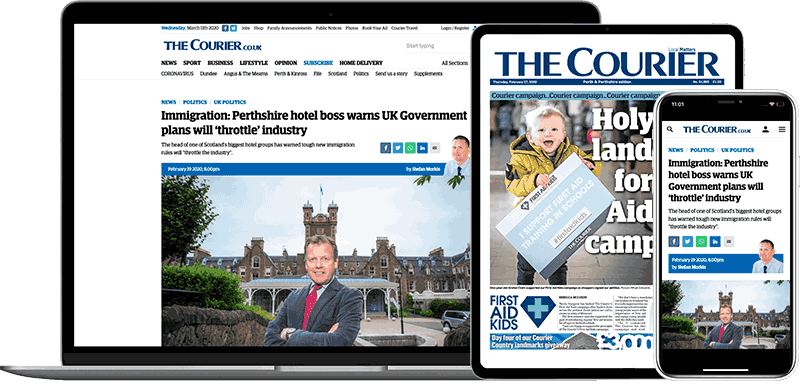 Help support quality local journalism … become a digital subscriber to The Courier
For as little as £5.99 a month you can access all of our content, including Premium articles.
Subscribe