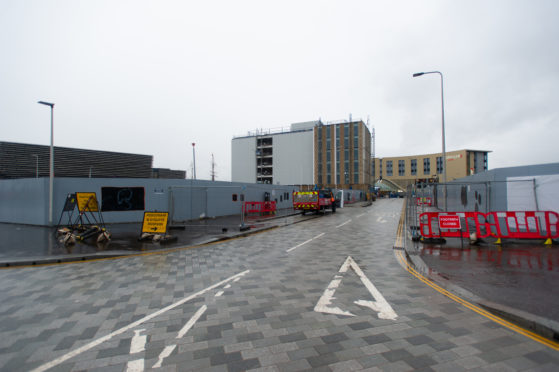 A £40 million hotel at Dundee's Waterfront is in jeopardy as coronavirus has seen demand for hospitality plummet.
Dundee City Council finance bosses have revealed a business case for luxury accommodation at Site Six has not been signed off and a decision has been made to review the plans, due to a drop in visitor numbers.
The existing office block will house Social Security Scotland and the hotel was to be operated by international hotel group Marriott under its AC Brand.
PICTURES: Aerial images show progress on £15.5 million Dundee waterfront office block
A report for the council's policy and resources committee on Monday, states: "In view of the global downturn in tourism due to Covid-19, additional hotel capacity is not anticipated to be required in the short-term, and a review of Site Six is being carried out to allow the remainder of the site to be developed.
"The letting of the office block at Site 6 allows the potential 'flip' of growth accelerator funding to other job creating uses within the central waterfront area, and this will be explored in more detail in a future report."
Council agrees shared ownership deal for Marriott waterfront hotel
Manny Baber, chairman of the Dundee & Angus Visitor Accommodation Association, and general manager  of Sleeperz Hotels, Dundee, said it is important to support recovery of the tourism industry in the city.
"The shelving of plans for another £40m waterfront hotel is disappointing for Dundee's hospitality industry, but understandable, in light of the downturn in travel and leisure tourism directly resulting from the Coronavirus pandemic.
"The focus of the city's accommodation providers now is on continuing to provide Covid-19 secure hotel stays to leisure and business tourism markets and stimulating growth and recovery in this vital business sector.
"In the long term, Dundee will continue building on the momentum of the last few years and seek to consolidate our reputation as one of Scotland's most exciting cultural destinations."
Earlier this month it was confirmed hundreds of jobs are headed for Dundee after the Scottish Government confirmed it is headquartering its social security agency at the Waterfront development.
Social security chiefs are already considering an expansion at Site Six, as work begins to equip it and two other city sites for up to 900 workers.
900-job boost for Dundee as Scottish Government confirms lease of waterfront site