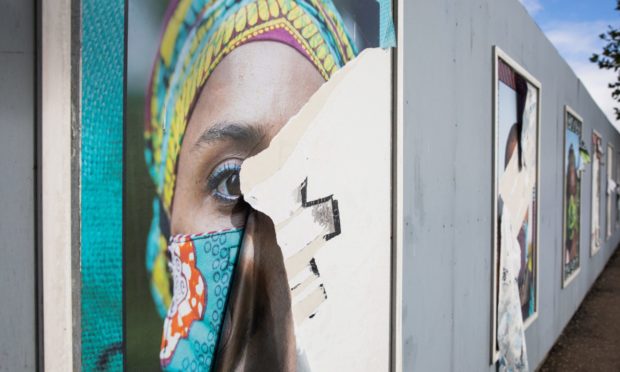 A vandalised public art exhibition featuring black Scots wearing facemasks will be replaced "as soon as possible", organisers have pledged.
Horrified members of the public have donated hundreds of pounds to the Black Lives Matter Heritage Trail since artist Sekai Machache's work was targeted at the weekend.
Police Scotland has confirmed it is investigating after 16 posters depicting black Scots wearing facemasks were ripped and torn off hoardings in Slessor Gardens.
The damage has prompted widespread condemnation and calls for a renewed focus on racist attitudes in Dundee.
Sekai said the support she had received since the attack had been "overwhelming."
"People have been sending lovely messages so it's good that something positive has come out of this," she said.
The work – a BREAdTH apart – focused on concerns over systematic racism in the health system during the pandemic.
It is the first time an exhibition has been targeted in this way since the Sharing Not Hoarding space opened in 2015 and comes only weeks after the work was first put on display
Laura Cosgrove, who donated in the wake of the attack, said:  "The world needs more positivity. I saw this beautiful mural in Dundee just last weekend and loved how colourful and diverse it was.
"Let's keep moving in the right direction – this is about everyone together. If the vandals felt threatened or hateful they need to remember – there is room for us all in this world."
As part of the The Scottish Black Lives Matter Mural Trail, the display is linked with similar work around Scotland.
Edinburgh-based producer Wezi Mhura, who created the concept, said she had prepared for people to tackle the trail "with anger" but the vandalism in Dundee "still hurts".
She said: "The artwork will go back up as soon as possible.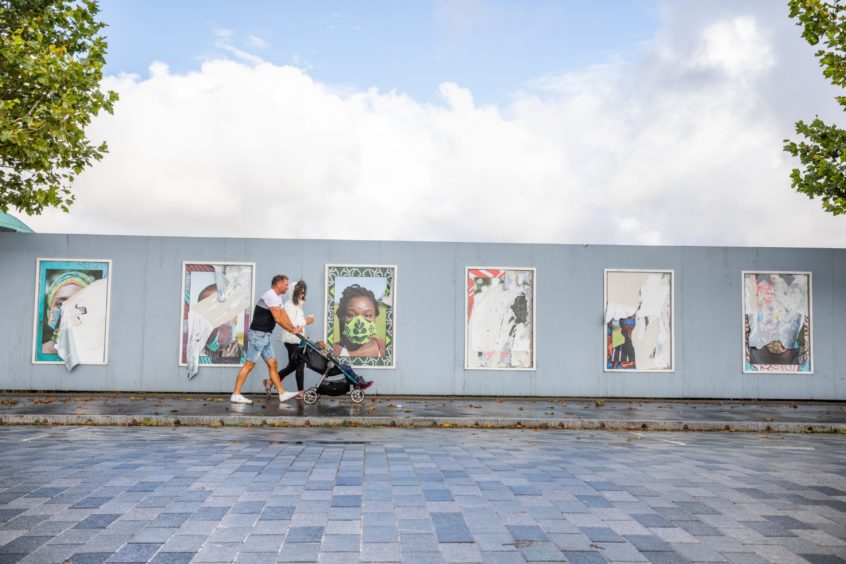 "The Scotland-wide BLM mural trail project was created to highlight the need for Scotland to have a conversation about race and inequality, a conversation these acts of violence tried to denigrate.
"This shows we are marching head on in the right direction and magnifies the significance of having these public art works across Scotland."
Sekai trained at the Duncan of Jordanstone College of Art and Design and spent 12 years living in Dundee.
Vandals also targeted her previous public exhibition in the city.
A Police Scotland spokeswoman said: "Police Scotland is aware of vandalism to posters in Slessor Gardens, Dundee and will be carrying out enquiries.
"Anyone who knows who is responsible should contact officers," she added.