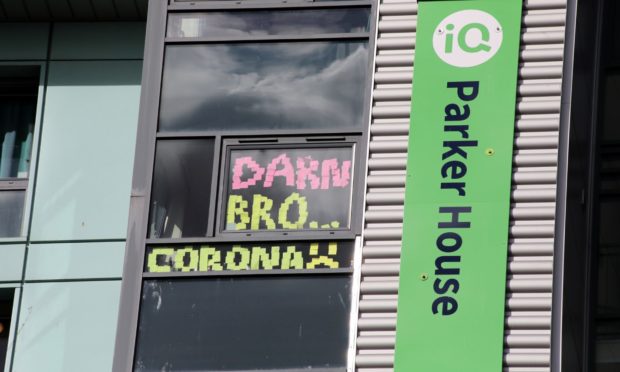 Students at a Dundee accommodation block that was locked down due to a coronavirus outbreak have been enjoying their first taste of freedom for several weeks – just in time for the introduction of new restrictions on pubs.
The Parker House halls of residence is opening up after an outbreak of Covid-19 forced around 500 students into quarantine.
Some 98 people living in the building, which houses mostly Abertay University students, tested positive following confirmation of the first case more than two weeks ago.
Residents in in flats where everyone tested negative for the virus have been able to leave since last Friday, but only under strict conditions such as wearing a mask in corridors and not entering certain areas.
Students have praised staff for ensuring they did not go without food and other essentials.
Caitlin Allan-Anderson, 18, was one of those who tested positive for Covid-19, despite not suffering from any symptoms.
She said: "I'm glad they tested everyone because otherwise I wouldn't have known.
"I was really shocked when I found out."
Caitlin moved to Dundee from Aberdeen to begin a criminology course at Abertay University not long before the outbreak began.
She said: "I was expecting something to happen, there are about 500 people here.
"Towards the end (of quarantine) it was a bit difficult, but it was not too bad.
"Digital classes started so I had stuff to do.
"There were people to speak to online, but it was difficult not having that face-to-face contact.
"Time kind of stops passing like it normally would."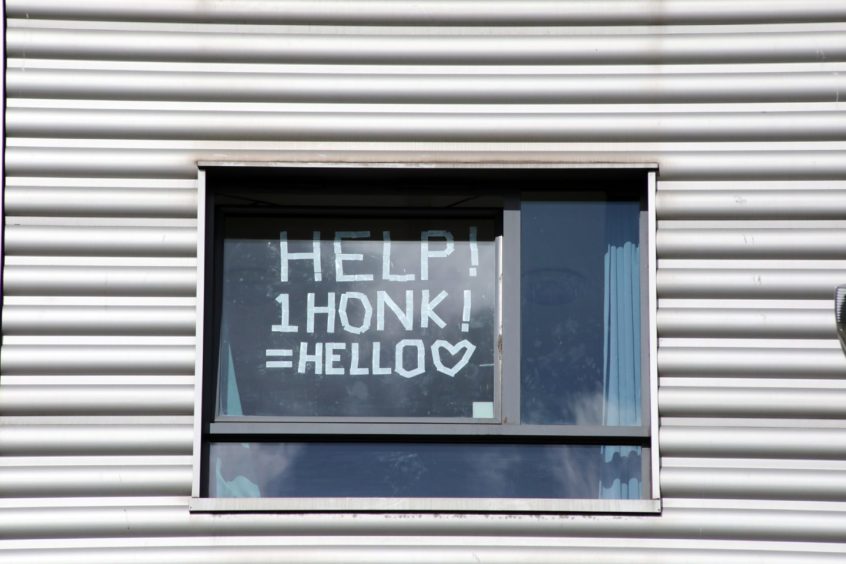 Caitlin said she relied on a Whatsapp group with her flatmates, which allowed them to avoid one another in the communal spaces.
She said: "We used that to know when it was okay to go to the kitchen and we would disinfect it after ourselves.
"The staff were really great and understanding."
Abdul Martin, 18, moved from Dublin three months ago in order to embark on a course run in partnership with Tayside Aviation .
He learned of the first positive case during a lesson with other students living in Parker House.
He said: "We had to go into this closed off area by ourselves and were driven to the halls so we could go into quarantine.
"In the week or so before the first confirmed case you could tell something was going to happen.
"There were so many parties and the staff were trying to crackdown on them, but just couldn't."
Abdul said he used prayer to help pass the time as well as streaming services such as Netflix.
He added: "I am Muslim so I prayed to try to take my mind off things.
"Lockdown was a hard experience, it was difficult at times not being able to talk to anyone.
"People were wary of each other before everyone was tested because you didn't know who had it.
"Because I am in flight school there wasn't really any classes I could do, so it was a very difficult experience.
"I have been allowed out for a week now though because everyone in my flat tested negative.
"The staff were very helpful. I actually ran out of food soon afterwards, but they made sure we didn't go without."
German Konstantin Menge moved into the block on Friday October 2, while many students were still quarantining.
The 20-year old said: "There were certain areas that were sealed from me so I didn't come in contact with someone who has Covid-19.
"But I have been allowed to leave the building, providing I wear a mask and go a certain way."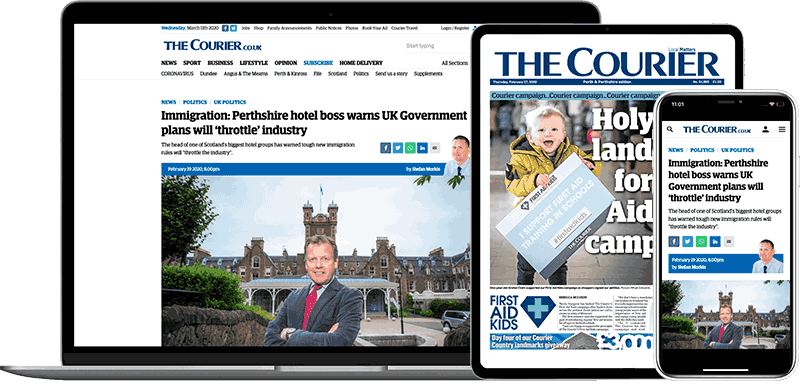 Help support quality local journalism … become a digital subscriber to The Courier
For as little as £5.99 a month you can access all of our content, including Premium articles.
Subscribe