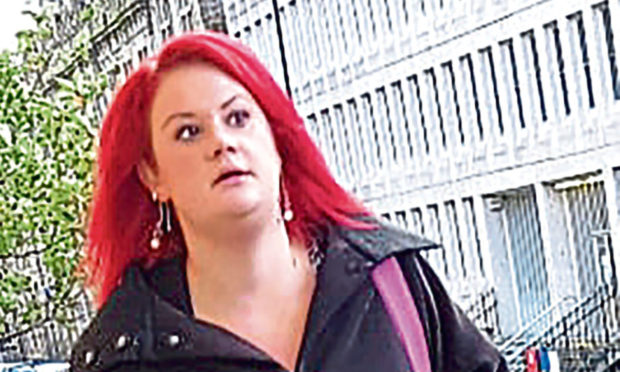 A disgraced Dundee doctor faces being sent to jail after being branded lazy, demanding female- dominated work placements, and arguing over mask-wearing while carrying out court ordered unpaid work.
Katy McAllister was told not to come back to work after a single shift at a health charity which was part of her community payback for drug dealing.
Bosses at Sense Scotland rejected her because, they said, she did no work and spent her day with them chatting and disrupting others.
Dundee Sheriff Court was told that demanding McAllister had also insisted upon avoiding male-dominated workplaces as she carried out her court order.
Sheriff Alastair Carmichael has now continued a review of her case to get more detail on her compliance with the order, which was imposed as an alternative to prison.
He has asked for further information from social workers, who compiled a report listing McAllister's failings on the community payback scheme.
Dundee doctor admits importing thousands of pills from India and Greater Manchester
"The report does read as if it is very much your client who has put obstacles in the way of it being completed," Sheriff Carmichael said.
"She's saying that's not the case so I would like to check that out. I'll continue it for a week for an up-to-date report giving further detail about how the decision was made that some placements were too far for her to travel and also where objection was made to working in a male- dominated environment.
"The Sense charity shop said she chatted all day, didn't do any work and distracted others."
Solicitor Gary McIlravey, defending, said McAllister was willing to carry out the order and blamed others for the "obstacles" which had been put in her way.
He said her therapist had recommended avoiding male-dominated workplaces and she claimed the social workers had been responsible for the distance-to-work issue.
"The report has been framed to suggest she has been putting obstacles in the way of carrying out these hours of work. She's clear that's not the case.
"There was an issue over whether she could work with others while wearing a mask. Social work said 'if you are not wearing a mask there are health and safety issues.'
"I understand the therapist said that if at all possible she should avoid male-dominated workplaces. She's quite happy now to work in a male-dominated environment.
"Regarding Sense, that's the first she's heard of this. She was speaking whilst working at the till. She got a call from the shop saying they did not need her back," Mr McIlravey said.
"She wasn't told that the reason for not coming back was that she was talking and not doing any work."
McAllister, who was cleared of killing a friend by giving her painkillers, was sentenced in January for importing controlled drugs, including diazepam, oxycodone, temazepam and morphine.
In 2017, the 33-year-old mother of two was found not guilty at the High Court in Edinburgh of culpable homicide but admitted supplying diazepam and temazepam to two people.
In the latest case, McAllister admitted four charges at Dundee Sheriff Court of importing more than 2,000 controlled drugs over three months in 2017.
Sheriff Carmichael told her in January he had considered a custodial sentence but ordered her to do 200 hours of unpaid work as community payback.
In 2017, she was cleared of killing Louise McGowan at Voodoo Tattoo in Dundee in May 2015 but pled guilty to supplying a fellow medic with diazepam and another man with temazepam.
McAllister was removed from the Medical Register last month after a tribunal determined that her "misconduct and offences were fundamentally incompatible with continued registration".