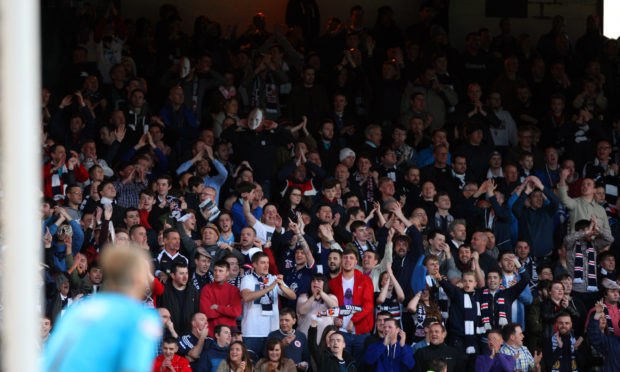 A Dundee supporter was rushed to hospital on Monday, after becoming ill whilst watching his team play rivals Dundee United at Dens Park.
A man was seen in distress in the Bobby Cox stand, and according to reports was evacuated from the stand by members of the Scottish Ambulance Service.
The incident is reported to have occurred in the final minutes of stoppage time, moments before Dundee's stoppage time winner.
It is understood that the man's heart had stopped, but that he is now recovering in intensive care.
The man's grandson reportedly confirmed on social media that the man was awake and recovering, apparently asking "what was the score" moments after resuscitation.
One fan who was sitting in the Bobby Cox stand said: "It was clear something pretty serious had happened as a lot of medical people began running in to the stand.
"I couldn't actually see what had happened but everybody was aware something was up.
"A few minutes after the medical teams ran past, a few guys carrying a stretcher went past.
"On the way out of the stadium we could see an ambulance with blue lights flashing pulling away.
"I hope the guy is okay."
Fans across Dundee took to social media to check on the status of the ill supporter.
One fan tweeted: "Hope the Dundee fan that had a heart attack last night is ok. Something's are more important than football. #Dundeederby."
Another praised the responses of medical staff at the game, saying that they were "in awe" of medics who rushed to the man's aid.