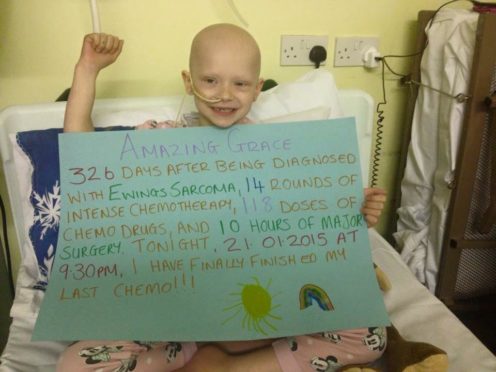 A Tayside scientist who is working to find better treatments for a rare children's cancer has been given a million dollar boost.
Professor Kevin Hiom of Dundee University's School of Medicine has been working with American researchers to find more effective ways of treating Ewing's sarcoma.
The cancer affects the bones, or the soft tissue around them, and is most commonly found in children and young people.
The team he leads and two others have now been awarded $1 million, the equivalent of £760,000, each.
The cash from Stand Up To Cancer and Cancer Research UK is intended to speed up the development of treatments.
Prof Hiom said: "It's really great news for Dundee that we have been awarded this funding.
"It's an ambitious goal, but we hope this research could lead to new treatments for Ewing's sarcoma – treatments that aren't as tough on young people as the ones we use now, and maybe new treatments that could help more young people to survive this rare cancer in the future."
He said the award was also recognition of Dundee's reputation as a world leader in biomedical research.
The funding has also been welcomed by the family of Grace Newton from Falkirk.
She was just five years old when she was diagnosed with Ewing's sarcoma in February 2014.
Parents Janet, 34, and Mark, 43, waited anxiously as Grace had a 10-hour operation in Glasgow to remove a tumour that was discovered in her right arm.
She completed her 14th and final cycle of chemotherapy in 2016 after 118 doses of drugs and more than 40 blood and platelet transfusions.
Now 12, Grace was well enough to start high school in August and wants to become a nurse so she can help other cancer patients.
Grace's mum, Janet, said: "We definitely welcome new research and hope it will lead to less harsh treatments for youngsters diagnosed with Ewing's sarcoma.
"Even now Grace's immunity is lower than other people of her age and she still gets pain in her arm and shoulder.
"As well as the physical changes and side effects to the body that cancer treatment can bring, there's also the mental wellbeing side effects.
"It would be great to see in the future better treatments which are not only life-saving but are gentler too."
If caught early, most patients with Ewing's sarcoma can be treated successfully but chemotherapy can cause long-term problems, or not work at all.
Professor Hiom said: "Our studies have shown that the genetic malfunction that leads to Ewing's sarcoma drives cells to start decoding their DNA much more rapidly.
"This causes 'knots' to form, which puts the cells under stress and gets in the way of the cell functioning normally, so it becomes a cancer cell.
"We want to see if we can find a way to make the cancer cells form more of these 'knots', to put the cells under so much stress that they die.
"Our hope is that this approach could result in more effective treatments with fewer side effects, by targeting this particular part of the cell machinery, rather than the whole cell, which is how the conventional treatments for this disease work."
Stand Up To Cancer UK is a joint national fundraising initiative from Cancer Research UK and Channel 4.
Special editions of TV programmes have helped raise millions for the cause in recent years.
Dr Victoria Steven, Cancer Research UK spokesperson for Scotland, said: "This funding award is fantastic recognition of the world-leading research that's taking place in Dundee which will help shape a better future for children and young people, like Grace, affected by Ewing's sarcoma."