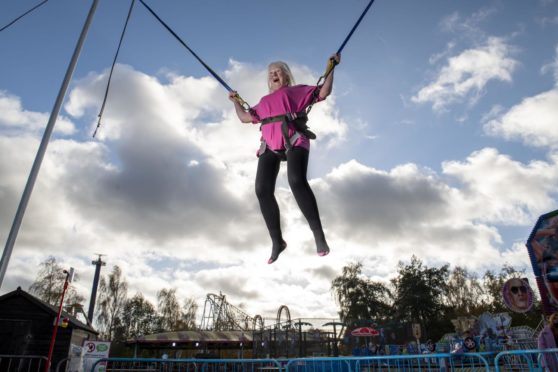 A Dundee grandmother jumped at the chance of completing one of her bucket list goals when a Motherwell theme park opened especially to let her try bungee trampolining.
Jan Smith, 70, told her family two years ago she would love to give the daredevil activity a go while watching her grandson Ollie try it at M&D's Theme Park, Motherwell.
Her daughter, Victoria, took note and recently arranged with the park organisers to grant her access, despite it being largely closed because of coronavirus, to try the thrill-seeking activity for her 70th birthday.
Much of the theme park was closed as tighter coronavirus restrictions were announced in the central belt area the day before Jan's birthday on September 26.
While some activities still took place at the visitor attraction, rides such as the bungee trampoline were closed to the general public, meaning Jan had the site all to herself.
She said: "It was a big deal for them to open that up for me. I was really impressed that they did it for me."
Jan has spent the last decade seeing sights around the world and trying new things ever since her 60th birthday when she started the bucket list by getting a tattoo.
Since then she has seen three of the 10 Manmade Wonders of the World, belly danced in Turkey, and visited the memorial to Che Guevara — who inspired Jan during her student days — in Santa Clara, Cuba.
She said: "As you go through life there are things you want to do and you see people doing things and think 'I want to give that a go'.
"There's still a lot of things I want to do, even if not all of them are attainable.
"The bucket list is always changing and more things get added to it, so I probably won't get it all done, but there's no harm in being aspirational."
Still on her wish list is to travel to China and India, take in the views of New York from the top of the Empire State Building, ride in a helicopter and have afternoon tea at the Ritz, London.
Jan asked her husband Alec to design the tattoo which kick-started her bucket list for her. It features three "forget me not" arrangements and is above an ankle.
Jan admitted to being slightly nervous how it would go down with her work at the time as an education officer with Dundee City Council.
She added: "I did think 'how is my boss going to react to this'. It did cause a bit of a stir, but they were okay with it.
"It became a bit of a talking point when I paid visits at schools."
Daughter Victoria said: "With Mum turning 70, we wanted to help her tick yet another thing of her list and we're hugely grateful that the team at M&D's for helping us to deliver an unforgettable day for us all.
"My mum was obviously a little nervous at first but the second she started jumping on the trampoline, she was having the best time and I'm so proud of her for being as brave and fun-loving as she is."
Jensen Taylor Connelly, of M&D's Theme Park, said: "As soon as we heard Jan's request, we were more than happy to help accommodate.
"We wish Jan the best of luck continuing to tick off her bucket list."