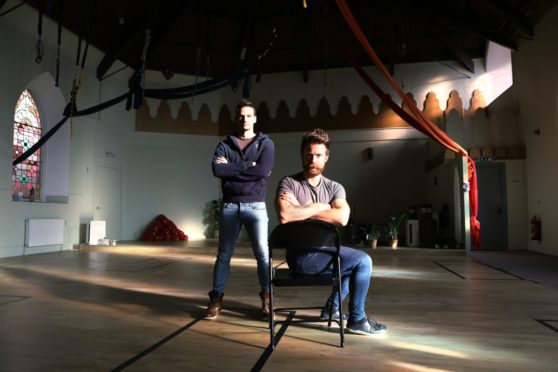 Dundee's Kilted Yoga star Finlay Wilson has blasted the "vague" rationale surrounding his business in the wake of the city being put in Tier 3.
Finlay, who runs yoga classes in Dundee, described the restrictions on his sector as "frustrating" and wants answers why yoga classes such as his have been lumped into the same category as more intensive exercise activities.
Under Tier 3 rules, only individual exercise is permitted indoors.
The YoutTube star has pledged to use his social media following to fight for answers for his sector.
He said: "There's no clarity. We're being lumped in with all group exercise classes, but what we do is different really.
I can go to a gym, mask-less, and be less than 2m away from someone for a whole workout but I can't be on a yoga mat 2.5m away from someone, not doing anything cardiovascular, and potentially masked… wellbeing out the window again!

— Finlay Wilson (@Scottishyogaboy) October 29, 2020
"We're all spaced out so it's not like our clients are next to someone who is doing heavy cardiovascular work and expelling their breath all over the room.
"We don't see how what we do is a higher risk of spreading the virus as gyms and they are remaining open.
"We're more of a community centre than we are a fitness class in how we're set up.
Nicola Sturgeon confirms stricter 'level three' coronavirus restrictions for Dundee from Monday
"We're going to have to tell our clients now that classes are cancelled and some of them rely on us. For some, it's the only thing they can do that is social and encourages fitness."
Finlay was on the first day of a holiday in Braemar with his husband and business partner Alan Lambie when Nicola Sturgeon's announcement was made. The pair raced back to Dundee to deal with the fallout.
Finlay found fame through his YouTube channel, where he performed yoga in beauty spots across Scotland wearing just a kilt.
A book, Kilted Yoga: Laid Bare, followed as well as his classes in his Scott Street space in the West End of the city.
Finlay, who has more than 20,000 followers on Twitter, added: "I have a substantial social media following so I am going to use that voice to stand up for people like us.
"We'll be looking at starting a petition to gather some signatures to show people feel this is unfair.
"If I can help get an answer to why this decision has been made, then I will.
"If the government can provide us with a list of things we need to do to stay open, then we will absolutely make sure every one of those boxes are ticked."
Dundee's kilted yoga teacher stunned as Hollywood star steps in to officiate his wedding
Finlay added: "We have spent months preparing for reopening to be safe so to be forced to close again is not fair.
"We have self-employed people who have not been supported by the government and we supported them ourselves last time, but we have to look at whether we can do that again.
"This is a sector with a lot of self-employed people, so a lot of them will be feeling uncertain at the moment."