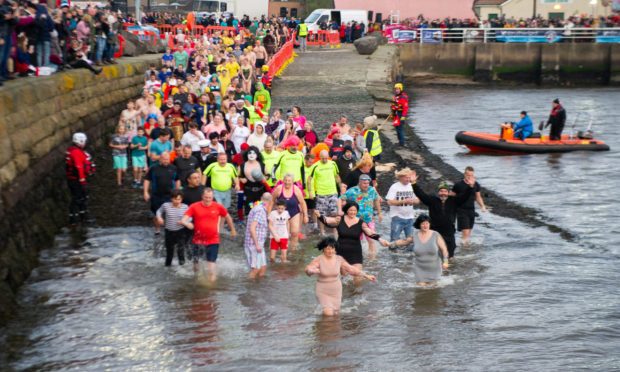 One of Dundee's most famous events, the New Year's Day Dook, has been cancelled for the first time in its history.
The hugely popular January 1 swim, which takes place annually at Broughty Ferry harbour, cannot be held because expected large crowds could increase the spread of Covid-19.
Organised by Ye Amphibious Ancients Bathing Association (YeAABA), the dook has been running for almost 130 years but rose to prominence internationally in recent decades.
Tourists flock to the city to join in with locals for a quick dip to raise money for charity, blow off cobwebs from Hogmanay celebrations, and welcome in the New Year.
Joyce McIntosh, organiser and life president of YeAABA, said she is "gutted" about the decision and said the group did everything it could to hold a stripped back event.
"It's with huge regret but it is what it is," she said.
"The police and council said it just wouldn't be possible to mitigate against crowds gathering.
"When things were looking better after the first wave of Covid-19, we were optimistic and put forward an alternative plan to help with social distancing.
"It wasn't to be though."
The dook is based on a tradition started by fisherfolk who bathed in the waters of the Tay on every morning except the Sabbath as long ago as 1891.
Records from YeAABA show January 1 was treated as particularly special, heralding in 'Ne'er Day', when the community congregated to celebrate together.
The dook had never been cancelled, even in 1989, when ice had to be smashed with pick axes to allow swimmers into the water.
It is the largest event of its kind in Scotland and raises valuable donations for a host of different charities as most dookers raise sponsorship money.
Last year, nearly £17,000 was raised by those taking part.
Ms McIntosh added: "We really wanted to lift everyone's spirits during this horrible time.
"It would have been an emotional one to kick off the new year on a positive note.
"It's not just about the swimming. It's about the camaraderie, raising money for charity and showcasing Dundee abroad.
"It's never been cancelled before as far as I am aware so this really will go down in history.
"We can only look forward to next year when we all hope things are back to normal."