Ahead of a free public lecture, Dundee University's Regius Professor of Life Sciences Mike Ferguson tells Michael Alexander how drug resistant bacteria could pose a threat to humanity if left unchecked.
It has been described as an antibiotics apocalypse.
A world where a simple cut to your finger could leave you fighting for your life and where getting an appendix removed could prove deadly.
Childbirth could again become a dangerous moment in a woman's life whilst cancer treatments and organ transplants could routinely kill you.
This might sound like the plot of a depressing science fiction novel, but it's just 18 months since the World Health Organisation warned that the world is heading into a post-antibiotic era where these scenarios could be increasingly real.
Antimicrobial resistance to antibiotics will present a greater danger to humankind than cancer by the middle of the century, research warned, unless world leaders agree international action to tackle the threat.
Current estimates are that drug resistant infections already claim about 700,000 live per year globally.
And if we do not create new antibiotics, or prevent the loss of the ones we have, it is estimated that this will rise to more than 10 million deaths a year globally within the next few decades with an additional global economic cost of £70 billion.
Dundee University Regius Professor of Life Sciences Mike Ferguson admits the figures are "scary". A return to the era before Alexander Fleming's discovery of penicillin is potentially real – and already surgeons are "thinking more than twice" about hip replacement surgery for elderly patients prone to deep tissue infection, he said.
But as he prepares to give a public lecture on the role Dundee University plays in fighting infectious diseases and preventing the global rise in drug-resistance, he is also "very optimistic" about what can, and is, being done.
"One of the big scary things the world is facing at the moment is what are called Drug Resistant Infections (DRI)," he told The Courier in an interview at the university's Life Sciences Discovery Centre.
"Previously when you had an infection you could take some antibiotics and be better in a couple of days. But now a lot of infections are resistant to the antibiotics and the doctors have fewer and fewer tools at their disposal. And the drugs that are left are nastier and nastier in terms of having side effects and being somewhat toxic. So we are in desperate need to steward the remaining antibiotics that we have left.
"And we need to create some new ones and replace the ones that are now useless and defunct."
Professor Ferguson, 59, wanted to be a scientist all his life. As a boy growing up in County Durham, he became fascinated with his GP father's textbooks and the reasons why medicines work.
Studying biochemistry at Manchester before a PhD in London and post-doctorates in New York City and Oxford, he was "actively recruited" by his now good friend and colleague Sir Philip Cohen to come to Dundee in 1988 where he has worked since.
Impressed by Dundee's "fantastic" academics and environment, he continued with his highly specialised research into cell surface biochemistry.
In the years since, he has played an integral part in developing Dundee University's now international reputation as a centre of research excellence in life sciences.
"We are not as big as Oxford or Cambridge – we have about a third of the number of scientific groups – but our quality is right up there," he said.
Now, in the university's latest Saturday Evening Lecture – 'What is the University of Dundee doing about infectious diseases?' – Professor Ferguson will outline the cutting-edge work being carried out across Dundee University in its efforts to make better use of existing antibiotics.
He will discuss how drug resistant infections arise and how they are developing new medicines to fight against parasites, bacteria and viruses including malaria, tuberculosis, leishmaniasis and sleeping sickness.
He will show how the world-leading Drug Discovery Unit (DDU) bridges the gap between academic, scientific research and drug discovery and development.
He will also illustrate how university colleagues in Life Sciences, Medicine, Science & Engineering and Art & Design are coordinating their expertise to rise to the challenge of drug resistant infections, both locally and globally.
For example, clinician scientists at Ninewells Hospital are leading research in 'antibiotic stewardship', to get the best use out of existing and future medicines, and performing crucial trials on new therapeutics.
He will also look at the context of the "broken business model", whereby the giant pharmaceutical companies decided it was no longer profitable to research new drugs.
He added: "I think we've been through a bad patch where through a combination of complacency, misuse of existing antibiotics through over prescription of them and a failed business model, we've gone through a bad point where there has virtually been no new antibiotics for a couple of decades. And suddenly the world is waking up to massive antibiotic resistance and realising we need to do something about it mighty quick."
Meanwhile, the Prince of Wales joined health experts and academics from around the world as they gathered in London on Thursday May 12 to discuss the growing threat of antibiotic resistance.
Leaders in human and animal health from 20 countries and international organisations held a summit at the Royal Society as part of the global battle against antimicrobial resistance.
Ministers and health experts explored antimicrobial resistance in the context of a "one health" approach, which recognises that human health is connected to that of animals and the environment.
Delegates from countries including the US, Cambodia and Russia and organisations such as The World Bank and the World Health Organisation discussed the link between human and animal health.
It also examined farming practices and sought to identify barriers to improved practice and the need to build on successful surveillance networks already in place around the world.
The Prince of Wales, an advocate of sustainable agriculture and food production, addressed delegates and met guests at a reception.
*Professor Ferguson's Saturday Evening Lecture takes place on Saturday May 14 at 6pm in Dundee University's Dalhousie Building.
For free tickets go to www.dundee.ac.k/sels , call 01382 385108, or email events@dundee.ac.uk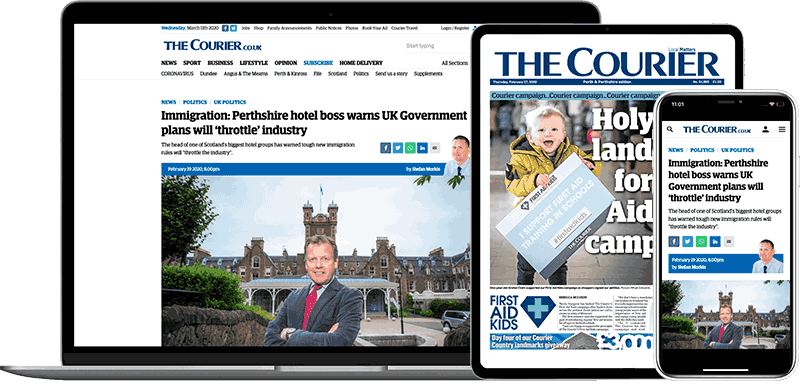 Help support quality local journalism … become a digital subscriber to The Courier
For as little as £5.99 a month you can access all of our content, including Premium articles.
Subscribe