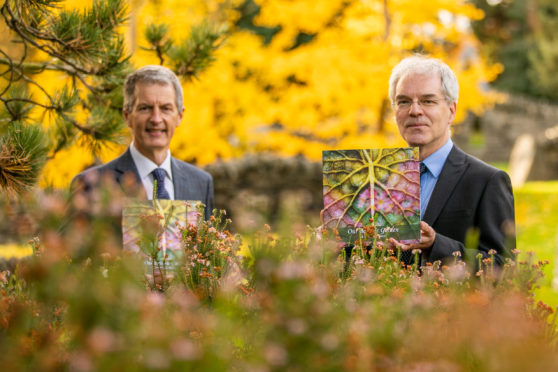 The launch of a new book celebrating Dundee Botanic Garden through the eyes of its regular visitors has heralded the launch of the attraction's 50th anniversary year.
Our Botanic Garden, A Place to Bloom, comprises work by professional and amateur artists, photographers and writers and marks the culmination of a three-year project by the Friends of the University Botanic Garden to celebrate and raise awareness of the venue.
The anthology is also aimed at raising funds to continue the conservation and education role of the renowned Riverside Drive attraction set across almost ten hectares overlooking the River Tay.
It incorporates stories, poetry, sketches and paintings reflecting the response of visitors to the garden in all its seasons, considered by many to be a hidden jewel in the city.
Dr Mark McGilchrist, chairman of the Friends of the University Botanic Garden said: "We are delighted to launch our anthology.
"It is a beautifully presented book and a wonderful gift of time and personal contribution to the University of Dundee Botanic Garden.
"The individual and community efforts shared within its pages highlight the special place of the garden in the hearts of those who know and are touched by its work, who enjoy its spirit of place, benefit from its wellbeing gift of space and support its critical conservation and educational work.
"I can't think of a better way to raise awareness of the role plants and green spaces play in people's lives today. It is an excellent way to open this anniversary year."
Professor David Maguire, interim Principal of the University of Dundee, added, "It is with great pleasure in my leadership capacity that I can introduce this anthology on the eve of the garden's 50th year.
"It is a significant body of work, representing the local community's connection to a space that promotes their health, feeds their happiness, and as the pages of the book reveal, facilitates their creativity and wellbeing."
The anthology was underwritten and produced by the Friends of the University Botanic Garden and is presently available for purchase at the garden.
The Dundee Botanic Garden was opened in 1971 and usually attracts more than 80,000 visitors annually.
It is hoped celebratory events for the attraction's 50th anniversary can go ahead in 2021.
The garden boasts a wide range of plants, with fine collections of conifers and broad-leaved trees and shrubs, tropical and temperate glasshouses, as well as water and herb gardens.
As well as featuring many species of indigenous British plants, it incorporates representative collections of important plants from all the continents of the world.