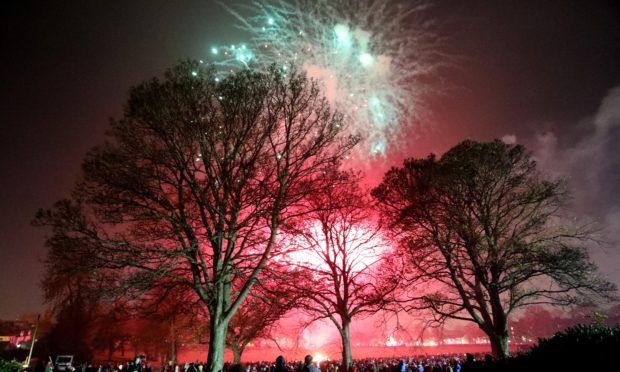 Residents in Dundee have been urged to resist the temptation to gather in groups this Bonfire Night.
Councillor Kevin Cordell said it is important not to give coronavirus the chance to spread and add more pressure on local public and health services.
The sentiments have been echoed by local police, fire and health chiefs.
The calls come days after fireworks were pointed towards police who tried to break up a group of youths.
Organised firework displays have been cancelled this year due to coronavirus.
Mr Cordell said: "Unfortunately it won't be a Bonfire Night like we are used to this year.
"It's important we all put safety first by acting responsibly.
"Please follow all the safety advice and also stick to the limit of no more than six people from two households gathering outdoors.
"Let's all play our part in keeping our local communities safe, prevent unnecessary pressure on public services and help to stop further spread of the virus."
Scottish Fire and Rescue Service (SFRS) Area Commander Gordon Pryde warned those planning to have a private firework that such endeavours could add to what is already their busiest night of the year.
He said: "Every year people are injured by fireworks and children in particular are at risk.
"We know some may consider using fireworks within a private setting this year due to Covid-19 leaving many public events cancelled.
"Bonfire Night is the busiest night of the year for the SFRS and it is vital that Scotland's emergency services maintain the capacity to respond to emergencies."
Dr Andrew Bogaz, NHS Tayside consultant in emergency medicine, said: "It is really upsetting to see people especially children, injured by fireworks.
"It is easy to forget that, despite how pretty sparklers look, they can inflict a nasty burn if not handled and disposed of correctly. This year I would like to urge everyone to take extra care around fireworks and enjoy their displays safely."
Police Scotland Tayside Division Superintendent Elaine Logue said: "Typically, this period is very busy for emergency services and while the cancellation of events and the early or continued closure of licensed venues is likely to result in a reduction in the number of people out and about, we can't be complacent."
Safety tips and alternative activities for this year's Bonfire Night can be found on the Parent Club website.