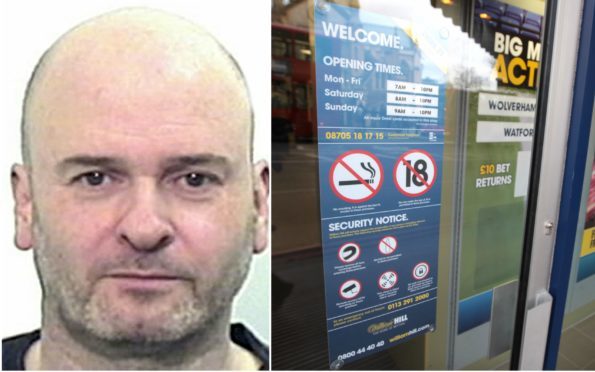 A council worker who stole £1.06 million from his employers to settle gambling debts has won a bid to have his prison sentence cut.
Financial computing specialist Mark Conway, 55, diverted public money to his own accounts after losing cash betting online with the bookmaker William Hill.
He defrauded Dundee City Council of £1,065,085 during his crime spree before he was caught in 2016.
He was given a sentence of five years and four months in August the following year.
However, the Scottish Criminal Cases Review Commission (SCCRC) sent the case to the Court of Criminal Appeal in Edinburgh.
Lawyers at the legal watchdog concluded that Conway may have suffered a miscarriage of justice.
The SCCRC concluded that judge Graeme Buchanan QC did not know that Dundee City Council had recovered the stolen cash from its insurers and from William Hill.
The commission believed that had judge Buchanan known this, he may have given Conway a shorter custodial term.
The commission also believed that offenders who had been convicted in similar circumstances had been given shorter sentences.
Appeal judges Lord Carloway, Lord Menzies and Lord Turnbull agreed that the sentence imposed on Conway was too harsh when compared to terms given to people convicted of similar offences.
In a judgment published by the court yesterday, the court reduced Conway's sentence to four years.
Lord Turnbull, who gave the judgment, wrote: "Despite the limitations of the information available, the picture which emerges… is that the sentence selected in his case stands out as being high.
"The sentence imposed shall be quashed and in its place there shall be substituted a sentence of four years."
Conway, formerly of Brechin, made entries in the council's computer system pretending to represent sums due to genuine suppliers.
Suspicions were aroused when an employee noted payment to a building firm had been sent to a Nationwide building society account.
The judgment tells of how Dundee City Council recovered £335,923 from its insurers. The local authority also took £258,966 from Conway's pension pot.
The judgment also reveals how in March 2018, the Gambling Commission carried out an investigation into Conway's relationship with William Hill.
The probe concluded that there had been "systemic failings" with William Hill's money laundering policies and how to limit harm to problem gamblers.
The commission ordered William Hill to pay Dundee City Council £500,000.
'Back of the net' blog reveals Conway's fight on his terms
Convicted fraudster Mark Conway has spoken of the "cathartic" experience of representing himself in the High Court.
In a blog published on the Scottish Legal News website, Conway described his experiences as a party litigant – the term for someone who represents themselves in a Scots court.
He said: "When I fell into the world of addiction-fuelled criminality I did so as a naive layman in respect of all things legal."
He believed the benefit of an early plea in case was diminished by what Conway branded an "excessive starting point" for sentencing.
Conway describes the judicial process as leaving him feeling "undervalued and under-represented", prompting the decision to take party litigant status.
And he resisted repeated advice to seek legal representation to pursue the appeal.
"My determination not to do so was occasionally tested, mainly through fear of the unknown and a lack of published information on what exactly to expect, but it is with some degree of pride that I did not cave in to the weight of opinion," he added.
"I genuinely found myself imbued with a determination to have my voice finally heard.
"For me the issue became less one of consequences than the power to claim self-advocacy. If I failed then at least I would have done so on my own terms."
Conway revealed he sat at his kitchen table for the virtual hearing, "my silk boxers hidden from view."
"Finally after three years of involvement in the criminal justice and judicial systems (I) had the chance to say exactly what I wanted to say, how I wanted to say it, and with no filtering caused by having my words read out by 'actors'.
"As for the outcome, well, to couch it in terms which I am glad to say no longer have relevancy to my addiction-free life… get in, back of the net."