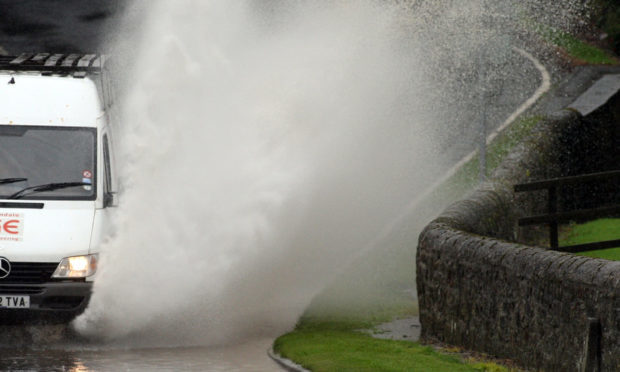 Last month saw the highest rainfall recorded in any October at the James Hutton Institute since records began there in 1954.
October 2020 saw 176.8mm of rainfall. The previous record by the Invergowrie science centre was 175.4mm in 2002.
According to the James Hutton Institute data, the wettest single day last month was October 3, when 62mm of rain poured down.
Met Office warning and flood alerts in place across Tayside and Fife ahead of 'turbulent' week of weather
That marks the highest daily rainfall since September 3 2009, when 65.9mm was recorded.
Since 1954, there have only been four months which was more rain: August 2004, December 1978, January 2015 and November 1984.
Those months faced 256.3mm, 215.6mm, 191.7mm and 180.3mm of rain respectively.
Parts of Courier Country saw extensive flooding in last month, with cars stranded in Angus as a result of the deluge.
Other parts of the country also faced a soaking, with Storm Barbara battering the UK.
The country also saw its wettest ever day thanks to Storm Alex, with enough rain to fill Loch Ness falling down.
As well as being wet, October was also among the darkest months on record in the Dundee area.
Last month was the 19th dullest since 1954, with below average daily hours of sunlight.
The temperatures were warmer than usual for the time of year, however, when compared to a 30-year average.