VIDEO: Van hits rail bridge in Broughty Ferry
Rail chiefs have given the all clear to a Broughty Ferry bridge after it was struck by a truck.
The crash on Friday morning brought traffic to a standstill on St Vincent Street after the curtain-sided van struck got wedged under the bridge carrying the main east coast rail line.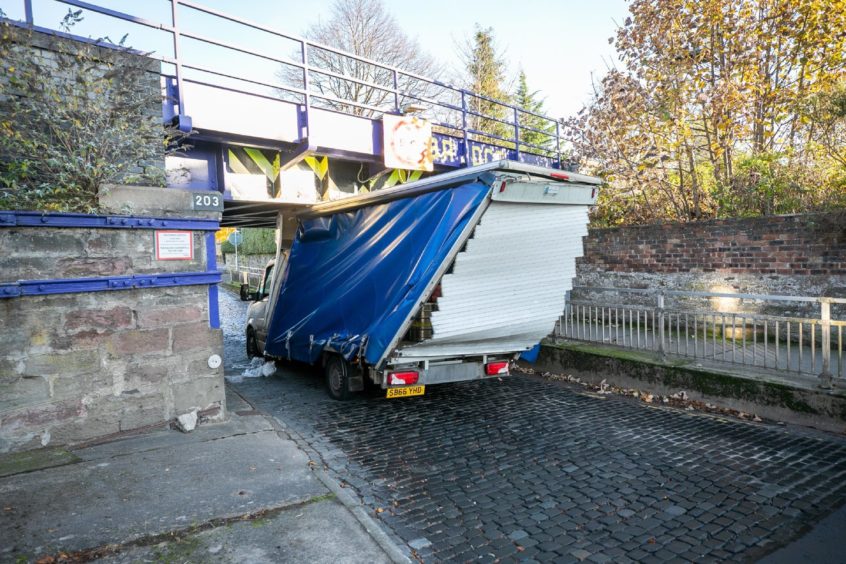 Here's the van that caused the disruption at Broughty Ferry. If you drive a van, lorry or bus, make sure you know the height of your vehicle. Bridge strikes cost the taxpayer £23 million a year.

Check it or wreck it. https://t.co/VUJ5CBWNgL pic.twitter.com/mIwiQBU1ve

— Network Rail Scotland (@NetworkRailSCOT) November 6, 2020
Police closed the road and Network Rail sent a response team to the incident.
Rail services were immediately reduced to a 20 miles per hour limit around the scene as engineers carried out a survey of the bridge to ascertain the extent of any damage.
The road was re-opened within an hour.
ST VINCENT STREET IN BROUGHTY FERRY NOW OPEN AGAIN

The lorry has been removed from under the bridge at St Vincent St in Broughty Ferry and the road is open again. Thanks to all affected for your patience while this was dealt with. pic.twitter.com/pyudbqbe4R

— Dundee Police (@DundeePolice) November 6, 2020
Network Rail said their engineers had discovered no issues with the bridge and the all clear had been given for the line to fully-re-open.
The driver of the van is not thought to have been injured.
They reminded drivers to be aware of the height of their vehicle to avoid adding to the £23million per year cost of bridge strikes across the country.
1
For as little as £5.99 a month you can access all of our content, including Premium articles.
Subscribe