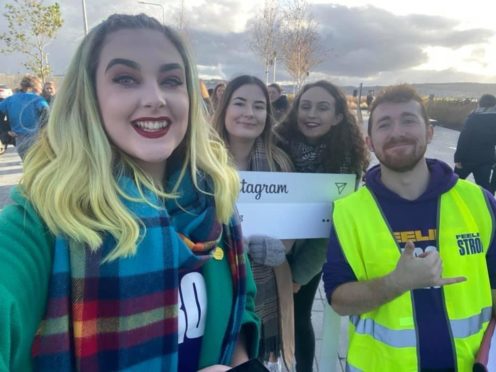 Staff at a Dundee youth mental health charity are not letting coronavirus restrictions stop them holding their annual fundraising walk.
The Feeling Strong team say access to mental health support is more important than ever and have adapted their Brave the Cold walk, launched last year, in keeping with Tier 3 rules.
They hope the five-mile hike between the V&A Dundee and Broughty Ferry Castle will encourage people to reap the benefits of outdoor exercise and have spread the event over three days – November 20 to November 22 to allow for social distancing.
They are encouraging people to walk the route alone, with their household or one other household, in keeping with the current rules.
Participants can also raise money for the charity through sponsorships.
Brook Marshall, chief executive of Feeling Strong, said. "We held this event last year and it was such a great experience.
"We had always planned to do a second one, just with different measures.
"The team has been working together and figuring out the best ways to help participants keep themselves safe while following the guidance, but also having fun as well.
"We are excited for the walk, it will be a weekend to remember, and for a good cause too."
Participants can register on the Brave the Cold Facebook page and can then choose which day and time to walk. They are asked to follow social distancing if they see others on the route.
Neave Marr, project and activities assistant, said: "This walk is a way for people to safely meet up with family and friends.
"The team are all keen and excited for the walk and most of us have gotten our families involved. We can't wait to see the turnout and see how the weekend goes."
The charity is offering a Brave the Cold Feeling Strong face covering t0 anyone who raises more than £50 and the top fundraiser will win a £25 Amazon gift voucher.
It comes as Feeling Strong prepares to launch a new career support programme at the end of this month.
Live and Learn will allow young people in the city to learn new skills and work with coaches to help them towards their career and education goals.
The charity will be working with organisations in the city including Malmaison, KM Skill School and Dundee Deaf Hub.
Brook said: "It's now more important than ever to increase networks among young people, both professionally and socially.
"We also know that these can be daunting situations for young people, and wanted to deliver a project that bridges that gap in a relaxed and fun way."
For more information contact cameron.aitken@feelingstrong.co.uk