As organisers put the finishing touches to the programme for the inaugural Dundee Design Festival, Michael Alexander meets some of the people putting the city on the design map.
You have to hand it to Graham Pullin.
His office at Duncan of Jordanstone College of Art and Design might be an eclectic clutter of course work, stacks of books and everything else that goes with juggling life as digital interaction design course director during assessment week.
But amid what he assures us  is organised chaos, it doesn't take long to find what he's looking for – a box of intriguing (and some slightly disconcerting) hands, ranging from ceramic to beech to felted wool; from a wartime cable-operated limb to a sophisticated model made on a modern-day 3D printer.
Twenty years ago, Graham, 51, was conceiving bespoke prosthetic hands for his Master of Design at the Royal College of Art, following a post at the Bath Institute of Medical Engineering where he helped develop robotic arms for people with spinal injuries.
After 12 years in design consultancy, he was inspired to write Design Meets Disability, a book that reconnects both sides of his career by arguing for more art school–trained experts to be invited into disability–related design.
Now, after a decade at Duncan of Jordanstone in Dundee, his research is being highlighted at the inaugural Dundee Design Festival, which is taking place at DC Thomson & Co Ltd's former West Ward works from May 25 to May 28.
It comes after the city was named the UK's only UNESCO City of Design, and with a theme of health and wellbeing, including digital, games, textiles, healthcare, social design and architecture, the programme will examine how design affects all aspects of our lives.
The Hands of X project will explore materials and prosthetic hands through the eyes of amputees, designers and makers, explains Graham.
The right materials are key when it comes to a prosthetic hand, which becomes part of its wearer's identity in a way few designs do.
Amputees can currently choose between skin-coloured silicone gloves or cyborg-like carbon-fibre. However, his  research suggests many feel uncomfortable with these extreme choices. Some object to the fake realism of the pink limbs, complaining they feel deceptive, even apologetic.
In Hands of X, he has set out to consider materials that do not imitate human skin, but are instead chosen for their aesthetic qualities, cultural resonances or personal significance.
During the festival, he will host workshops,  held in collaboration with the Institute of Making at University College London and MAKLab in Glasgow (and, shortly, Dundee), that bring together amputees, designers, prosthetists, engineers, makers and artists to consider the process of  making hands in different materials, from many perspectives.
The 18-month research project is funded by the Engineering and Physical Sciences Research Council. Graham says the design festival offers the perfect opportunity to take the work to a wider audience.
"It's still quite abstract at this early stage, but that's the type of conversation we want to start," he says.
"We will be inviting visitors to the festival to join us at a big table, to rummage through different material samples, and then to specify their own hand, and to tell us what materials they would choose, and why.
"Once the festival is over, we will identify the most interesting and appropriate combinations and pursue these further."
The goal is to develop a small collection of simple hand designs, offered in a nuanced choice of materials so the wearer can choose what works for them.
"It's a bit like visiting a bespoke tailor, "adds Graham. "You'd have a pattern as a starting point. But then you'd have a conversation – 'what are we going to make your hand out of?'
"The 'X' in Hands of X could refer to the materials: a Hand of Wool or a Hand of Beech. But it could equally refer to the Hand of Jane or the Hand of Calum: the person who is wearing it and for whom it has been made. It's the connections between individual people and particular materials that lie at the heart of Hands of X."
*Kate Pickering laughs when I ask how she came up with the name Vanilla Ink for the  jewellery studio she launched in Dundee four years ago.
"Everyone always wants to know that. Do you want the real story or the other story?" she chuckles.
"One story", the 30-year-old Duncan of Jordanstone College of Art and Design graduate reveals, "is that Vanilla is the Latin for 'little pod', which ties in with the aim of developing  new talent by providing a supportive incubator pod. Ink is a reflection of me. I used to do a lot of etchings, and I'm also heavily tattooed.
"The real story though is it's simply a name that sticks in peoples' heads. The word and colour – I like the ambiguity of it."
Kate, from Dunfermline, opened Vanilla Ink in Dundee in 2012 with the aim of bridging the gap between education and industry, and to support and promote jewellers in the early stages of their careers.
With a degree in jewellery and a masters in design herself, she understood the difficulties and isolation felt by many new designers as they attempted to set up their own business.
She wanted to create a space that allowed collaborations, mistakes and time to reflect, and in that first year, 13 jewellers passed through her workshop.
Participants had access to a 24-hour studio, monthly professional development classes with industry experts and one to one mentoring with successful designers.
Breathing space
This breathing space was crucial for the aspiring businessmen and women.
"It actually made some people realise a career in jewellery wasn't for them," she recalls. "One jewellery graduate decided to become an engineer and another went on to do teaching."
A change in domestic circumstances meant Vanilla Ink closed its doors in Dundee in January last year, relocating to Glasgow where Kate established a new workshop in MAKLab Charing Cross.
However, she is looking forward to returning to Dundee for Scottish Jewellery Week – which she set up independently two years ago – and which she is now organising under the umbrella of the Dundee Design Festival.
An exhibition in West Ward will showcase 15 jewellers and silversmiths from across Scotland and attempt to shed light on the relationship between maker and making. As part of a live workshop-in-residence, Dundee-based jeweller Islay Spalding has been tasked with creating a piece inspired by Dundee and/or Design Week. Elsewhere, a jewellery trail will target independent businesses with displays around the city.
"Scottish Jewellery Week is a celebration of the vast quality and design of Scottish jewellery, "says Kate.
"It's always going to be celebrated no matter what city it is in. But for me it's nice to come back to Dundee and celebrate the fact the city is doing some amazing things."
"It's important to recognise the talent and what's going on in the city, because not everyone is aware. The design community know about the incredible projects going on, but in terms of the wider audience it's good for people to be able to tap into what's going on on their doorstep.
"There are going to be some incredible changes to the city. Some are still rolling their eyes at mention of the V&A. But people can't deny that these and other changes are happening. Dundee is also very lucky to have Duncan of Jordanstone College of Art and Design which is an incredible place to build and energise artists."
Award-winning Dundee-based jeweller Joanne Macfadyen  was Vanilla Ink's first jeweller in residence  in 2012 and will be exhibiting during the week as well as taking part in the jewellery trail.
Working with precious metals, clays, enamel and gemstones, the 32-year-old is led by a love of experimenting with materials and techniques and driven by a "wide eyed attitude" to the world.
In 2014 she set up Tea Green Events, hosting pop up displays to showcase the wealth of creative talent based in Scotland. Her latest will take place in the Old Flour Mill at Exchange Court for the duration of the festival.
"I think the design festival is pretty vital, "says Joanne, who will be creating an Oor Wullie sculpture live during the festival.
"A lot has been happening behind the scenes in Dundee. This is an opportunity to publically shout a bit louder about what we are doing."
V&A Dundee
*With the £80.1 million V&A Dundee set to open in 2018 at the heart of the city's ambitious £1 billion waterfront regeneration project, Sarah Saunders, the museum's Director of Learning and Innovation, hopes next week's festival will be a chance to shout from the rooftops about Dundee's design credentials.
The qualified jeweller and goldsmith has been in post for three years, following stints at the V&A London, National Museum of Scotland and the National Galleries, and can't wait to tell the world how the city is transforming itself.
She says: "The festival is really about promoting what we are doing in Dundee on a much larger stage. Getting the UNESCO City of Design title was fantastic. Now we've got the global network to go with that, it's about getting people from outside Scotland to come to Dundee.
"But also for people in Dundee and the surrounding area to get involved and see for themselves about what's going on."
A one-day event, organised by V&A Dundee on May 25, will explore the power of design to transform Scotland's companies through increased productivity and global success.
As part of the Design Revolution: Innovative Cities and Business forum, international speakers will discuss the value of design to the Scottish and UK economy, consider how design thinking can transform businesses for the future, and  look at how UNESCO Cities of Design have used design to support business growth and innovation.
"Recent Design Council research found the design economy is worth £71.7 billion per year in gross value added, and that workers with a design element to their job were 41% more productive than the UK average," Sarah reveals.
"What this event will do is give us some sense of where we sit. It features speakers from the Design Council, the School of Design Thinking at the Hasso Plattner Institute in Potsdam, and the global UNESCO Cities of Design Graz in Austria, Helsinki in Finland, Shenzhen in China and Saint-Etienne in France. "
The architectural model of V&A Dundee will be on display in West Ward Works, while the Dundee Design Festival will also be presenting two major projects, the Schools Design Challenge and V&A Dundee Community Garden.
The schools event worked with more than 1,000 young people across a four-month project, asking S1 pupils from every secondary school in Angus and Dundee to creatively respond to the question "How could you improve your school or school life?"
The V&A Dundee Community Garden project involved people living with – and recovering from – a range of health and wellbeing issues, inviting them to jointly design a world-class garden as part of the new Slessor Gardens within Dundee's waterfront regeneration.
The schemes tie in perfectly with the overarching aim of the festival – to present stories of local design with a global impact and to show what design can achieve when people join forces.
"Taken as a whole," say organisers, "They capture a moment where, in a city the size of Dundee, people are coming together from across studios, campuses, cities and nations to help frame problems and find solutions."
For more information go to www.dundeecityofdesign.com
malexander@thecourier.co.uk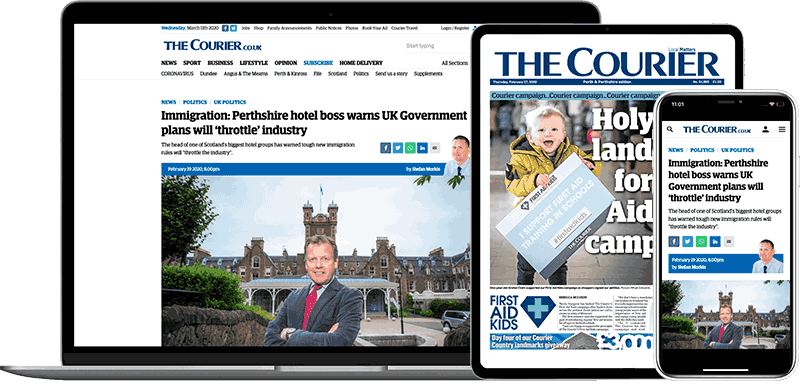 Help support quality local journalism … become a digital subscriber to The Courier
For as little as £5.99 a month you can access all of our content, including Premium articles.
Subscribe