Gary Barlow has made a Dundee superfan's dream come true by turning up at her 30th birthday party.
In a heart-stopping moment, Jill Campbell finally met her idol after months of coordinating a persistent social media campaign encouraging the singer to come to Dundee.
So Gary Barlow showed up at my cousins 30th and and sang to her ?? pic.twitter.com/QBZI5pVhqK

— RobbieMatthew (@Robbie_Matthew) May 21, 2016
Went to "assist" awardwinning photographer @C_KMiller on #milestonebirthday @GaryBarlow in #Dundee more on #snapchat pic.twitter.com/jx1yGD0BI7

— Christina Miller (@thedaydreameruk) May 21, 2016
Suspense hung over proceedings as to whether the Take That frontman would arrive at the party, but Jill's enthusiastic online efforts paid off when she was brought face to face with the pop legend at the Apex Hotel.
.@GaryBarlow .@JillCampbell10 So she did it!! Here are some of the secret squirrel campaigners who knew pic.twitter.com/PwSP23xdZE

— SusieThatter (@crimsontide33) May 21, 2016
Hundreds of tweets had been sent Barlow's way by Jill and her friends since March, which were picked up on by his team.
Arrangements had been made in secret to get the Greatest Day singer to the birthday bash, ensuring his entrance would be a complete surprise for a delighted Jill.
Prior to the event she had told The Courier she would breakdown if he turned up.
"I don't think anyone knows how draining it has all been," she said.
"I've loved it, but it's been an emotional rollercoaster.
"If Gary walked in I would breakdown.
"I'll be a nervous wreck on Saturday.
"I've been sending tweet after tweet to him asking him to look at the video, hoping he will come.
"I've been a fan of Gary and Take That from the beginning. I went to my first concert in 1994 up in Aberdeen and since then I have been to see Gary and Take That 17 times."
Her social media campaign kicked off in March with a video parodying Back for Good, and #getgarytojills30th has been tweeted hundreds of times ever since.
Barlow has written 14 number one hits and has sold over 50 million records worldwide. He shot to fame as a member of Take That but has also had an incredibly successful solo career.
Last year, he attended several weddings across the UK unannounced, but told his Twitter followers at the start of 2016 that he would be turning his focus to those celebrating milestone birthdays this year.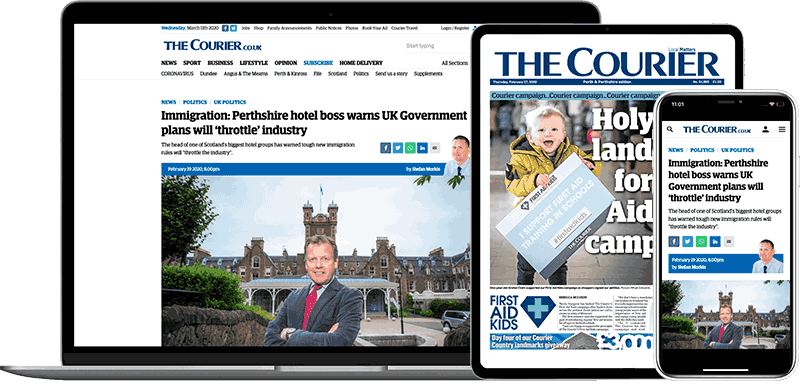 Help support quality local journalism … become a digital subscriber to The Courier
For as little as £5.99 a month you can access all of our content, including Premium articles.
Subscribe