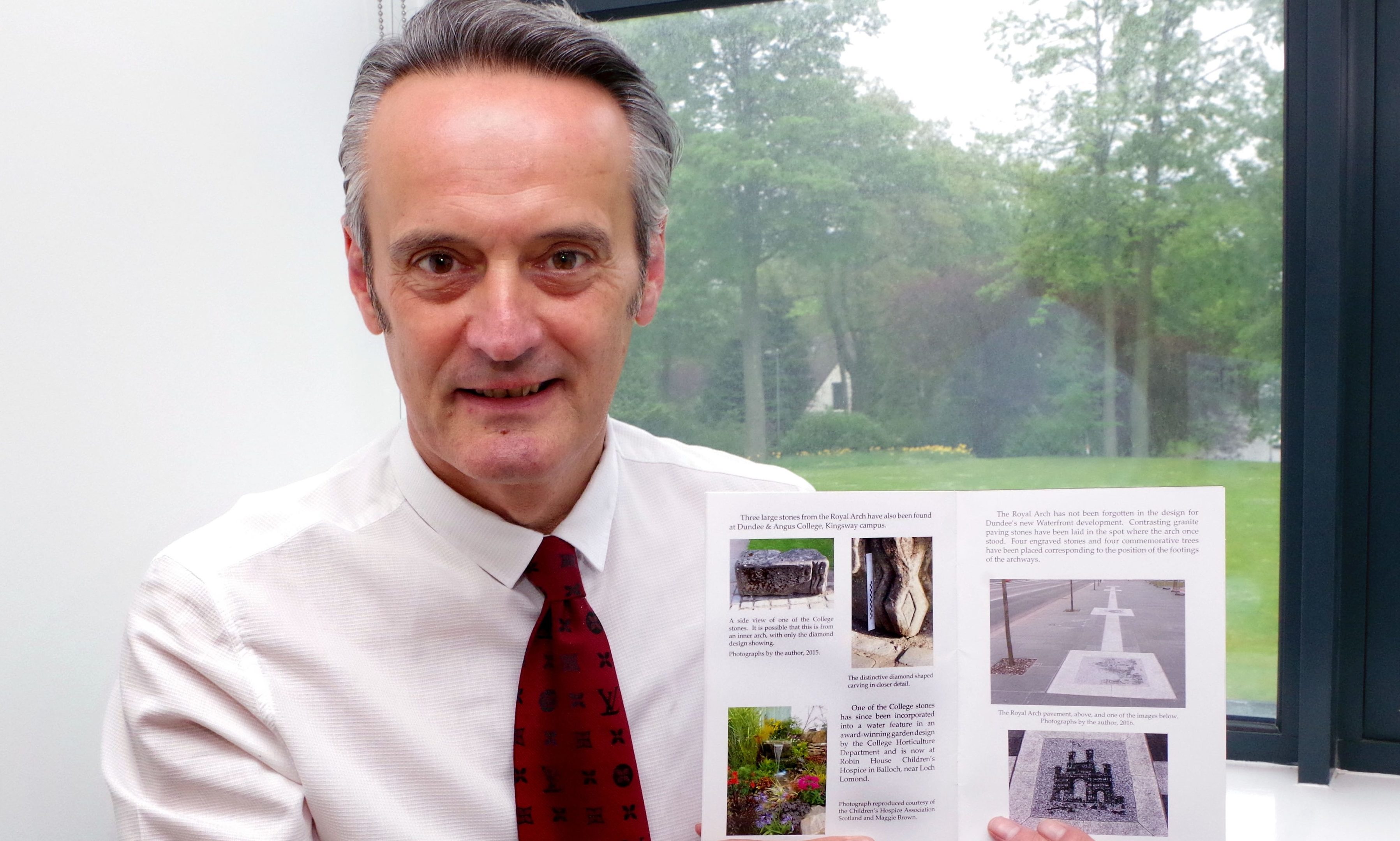 Two large stones at Dundee and Angus College's Kingsway campus have been confirmed as remnants of the once prominent landmark the Royal Arch.
The Abertay Historical Society identified the carved stones after being made aware of them following an article in The Courier and other local press.
It is thought the stones were used in the construction of the campus in 1964, the same year that the arch was demolished.
In a new booklet detailing a concise history of Dundee's Royal Arch, the links between the demolition of the once famous site and the college are featured.
Written by a leading local historian, Dr Jeannie Cooper, the booklet is described as a precursor to a larger tome that will hopefully be published in the near future that will offer a broad perspective on the life and destruction of the former landmark.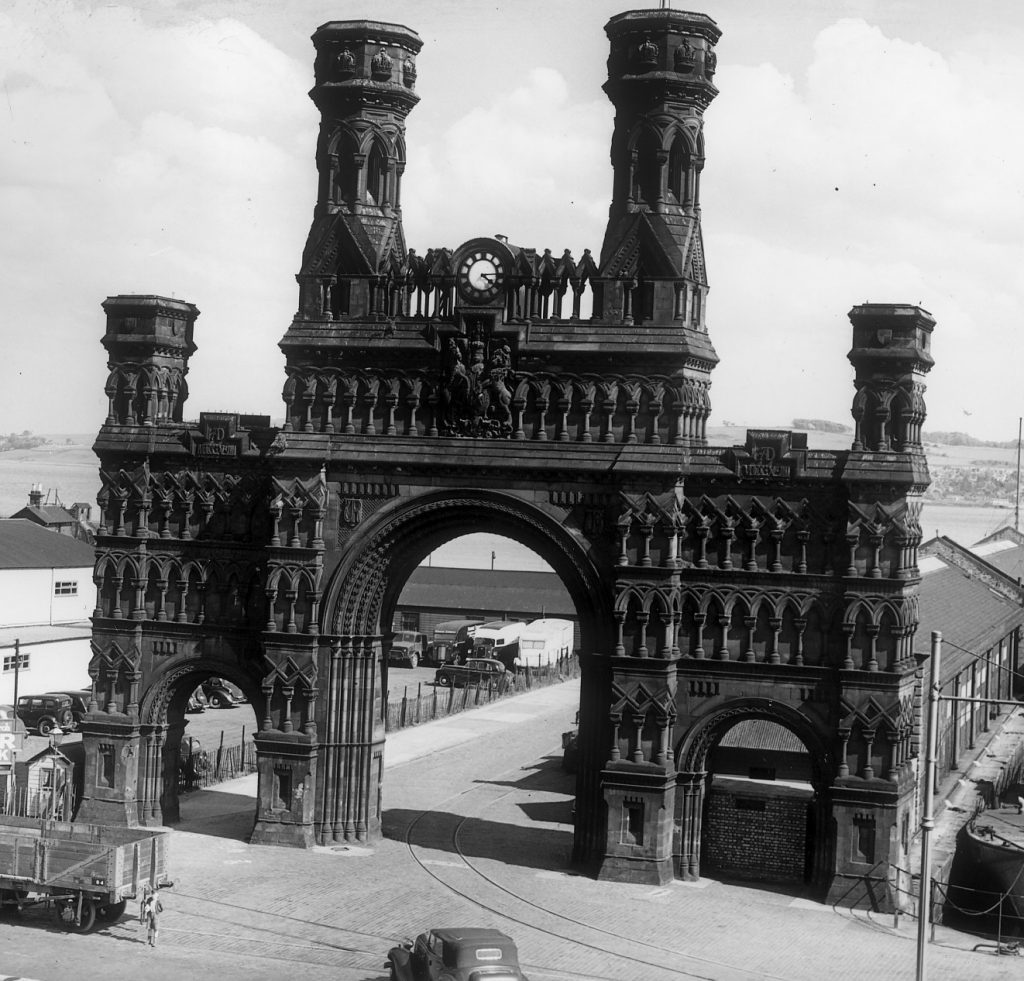 The Royal Arch in all its splendour.
The college had originally laid claim to holding three of the large stones from the arch, but one was used in a horticulture project for a children's hospice.
Last year, staff and students of the college's horticulture unit incorporated one of the carved arch stones in to a water feature for Robin House, one of two Children's Hospice Association Scotland's centres near Loch Lomond.
As part of the college's celebration of links with the arch, students from the HND architecture technology and building courses will be taking part in an event that will see a large, cardboard recreation of the historic site recreated in the newly-built Mary Slessor Gardens on the re-vamped waterfront.
Part of the Ignite festival, "The People's Tower" event will take place over Saturday May 28-29.
Grant Ritchie, principal of Dundee and Angus College, said: "While we at D&A College take pride in being a modern, forward-looking establishment, continuously updating our resources and maintaining cutting-edge facilities, it is nice to have historic links of this sort."
"That our students signed up to take part in the People's Tower project shows that there are always something to be learned from the past, even if it is new ways.
"I am looking forward to seeing the more comprehensive publication on the Royal Arch in future and hope that there will be room to include the college's links to the structure."
The cardboard tower will only stand for one night, before being demolished on the Sunday by a team of volunteers.
Members of the Abertay Historical Society will also be appearing at the event, handing out free copies of their newly published booklet.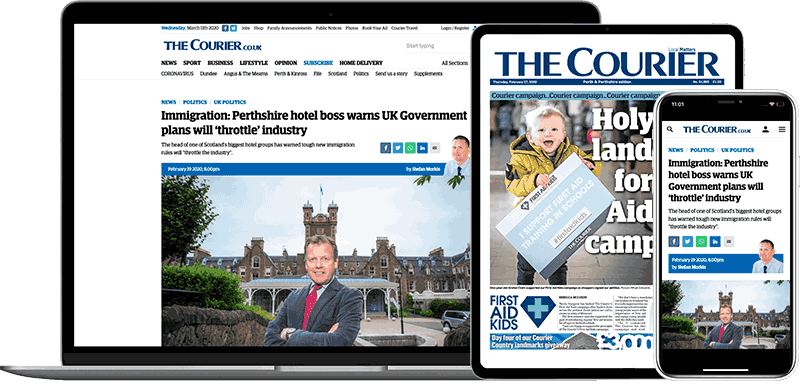 Help support quality local journalism … become a digital subscriber to The Courier
For as little as £5.99 a month you can access all of our content, including Premium articles.
Subscribe