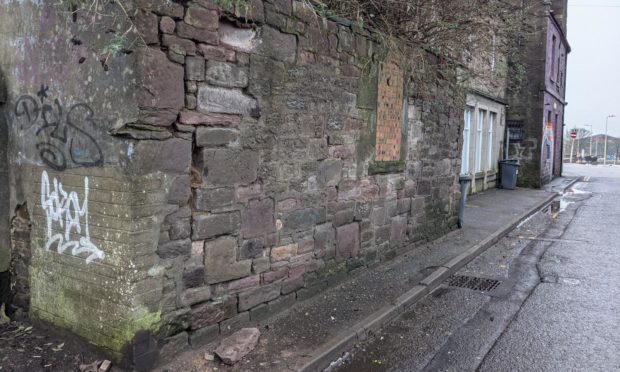 A dilapidated building in Lochee could be "ready to collapse and kill someone", a councillor has warned.
The roofless structure on Burnside Street, just off Lochee High Street, has been flagged up as a possible danger to the public.
A large stone came away from the front wall recently, landing on a narrow footpath in front of it.
The building is just metres away from the main entrance to St Mary's Nursery and Primary School and a church.
Building is 'dangerous'
Lochee representative Charlie Malone says he was shocked to see the state of the disused property.
He warned it's a "fatality waiting to happen" and said it must be addressed immediately.
Mr Malone said: "It's part of a block that's rotten from the inside.
"An older gentleman raised the issue with me so I went down to have a look.
"It looks so dangerous.
"The wall closest to Lochee Road is sitting an angle; you can see it bulging out.
"There are even roots growing out of the wall."
Trees growing inside property
The rear of the building, which backs on to an overgrown square of grass, is hidden from public view as it is surrounded by walls and bushes.
It can only be accessed via a locked gate or through the nearby garden of a separate property.
The structure has no roof and the back wall is also starting to crumble away.
Bushes and trees are even growing from within the building and spilling out the top in full public view.
It is adjacent to the former Lochee Pet Store, which closed 10 years ago.
It is not clear who owns the store or the derelict building now.
There was much talk of housing being built on the land at the time but this did not materialise.
Mr Malone added: "It looks like it's ready to collapse.
"I just feel it's an accident waiting to happen.
"It's in an area where infants and primary school children walk around so it really worries me.
"I hope it can be looked at as soon as possible."
A Dundee City Council spokesperson, said: "Building Standards officers were made aware of this incident on Friday and will carry out an inspection of the property."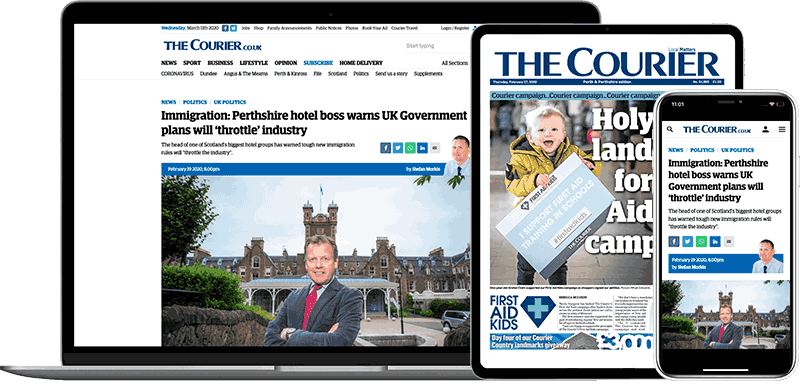 Help support quality local journalism … become a digital subscriber to The Courier
For as little as £5.99 a month you can access all of our content, including Premium articles.
Subscribe