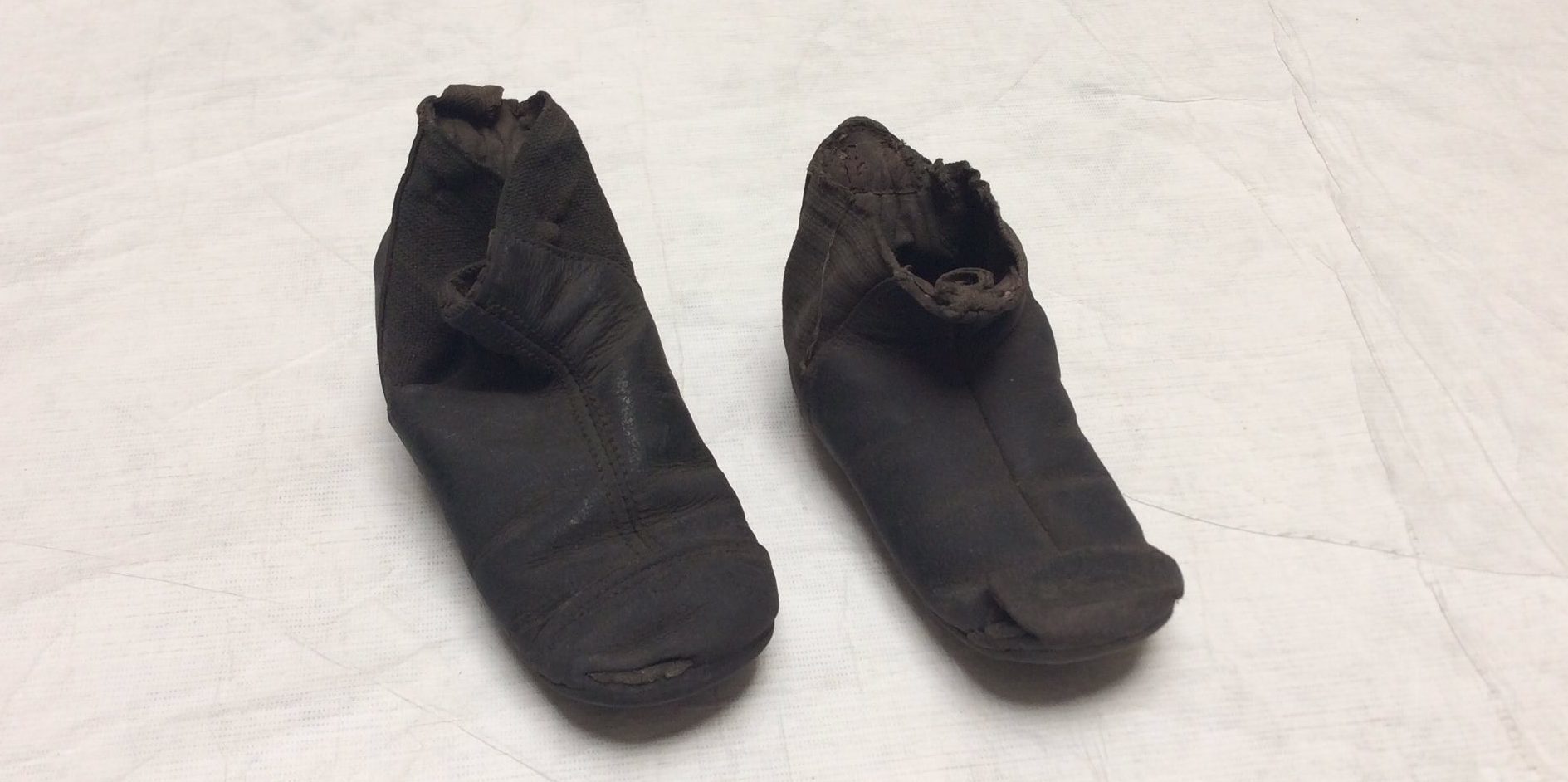 A pair of mid-19th century child's shoes have been donated to the McManus Galleries after being found behind a fireplace in a Dundee flat.
The handmade leather booties were unearthed from inside the chimney breast of a tenement flat on Arbroath Road by a joiner who was renovating the home.
As well as the shoes, there were shredded bits of paperwork from 1876, a menswear brochure and pages of text about the Curse of Meroz – a biblical text from the Old Testament.
McManus staff explained that these items, and in particular the shoes, were likely placed inside the wall cavity as part of an old tradition believed to bring good luck to the home.
It appears that the shoes belonged to a child aged four or five from a poor family, likely to have been working in one of the city's mills and factories at the time.
Carly Cooper, social history curator at the McManus, said: "We're not sure if the shoes are a pair because they're different sizes, but perhaps the child would've worn them as a pair because that was all he or she had.
"They definitely look like a poor family's shoes, for a child aged four or five, or perhaps even older because people would've been slightly smaller back then.
"There was also an advertising brochure for Smith's menswear, an insurance report dated 1876 and shredded bits of paper with the title Curse of Meroz at the top, but these were all in very poor condition."
The custom of concealing items in the fabric of buildings was a common one in Medieval times, up until the early 20th century.
Shoes were by far the most common thing to hide but other items like coins, written charms, witch bottles and even animal skulls have been found in various parts of Europe, the USA and Australia.
The items were intended to bring good luck and ward off evil spirits or bad witches, which were genuinely feared by people at the time.
The children's shoes were handed into the McManus on Monday by Marie Cuthbert from Broughty Ferry, whose son Nick originally found them.
She said: "My son was doing a joinery apprenticeship in 1992-3 and one of the jobs was to gut a tenement flat on Arbroath Road.
"It's the last set of tenement flats before Baffin Street, possibly number 89 and it was either a third or fourth floor flat.
"He found the shoes and thought that I'd be interested in them, so he gave them to me and I've kept them since then.
"They've just been sitting in the attic so I e-mailed the McManus to ask if they'd be interested in them and they were."
For now the shoes will be stored and documented, with the possibility of being displayed at some point in the future.