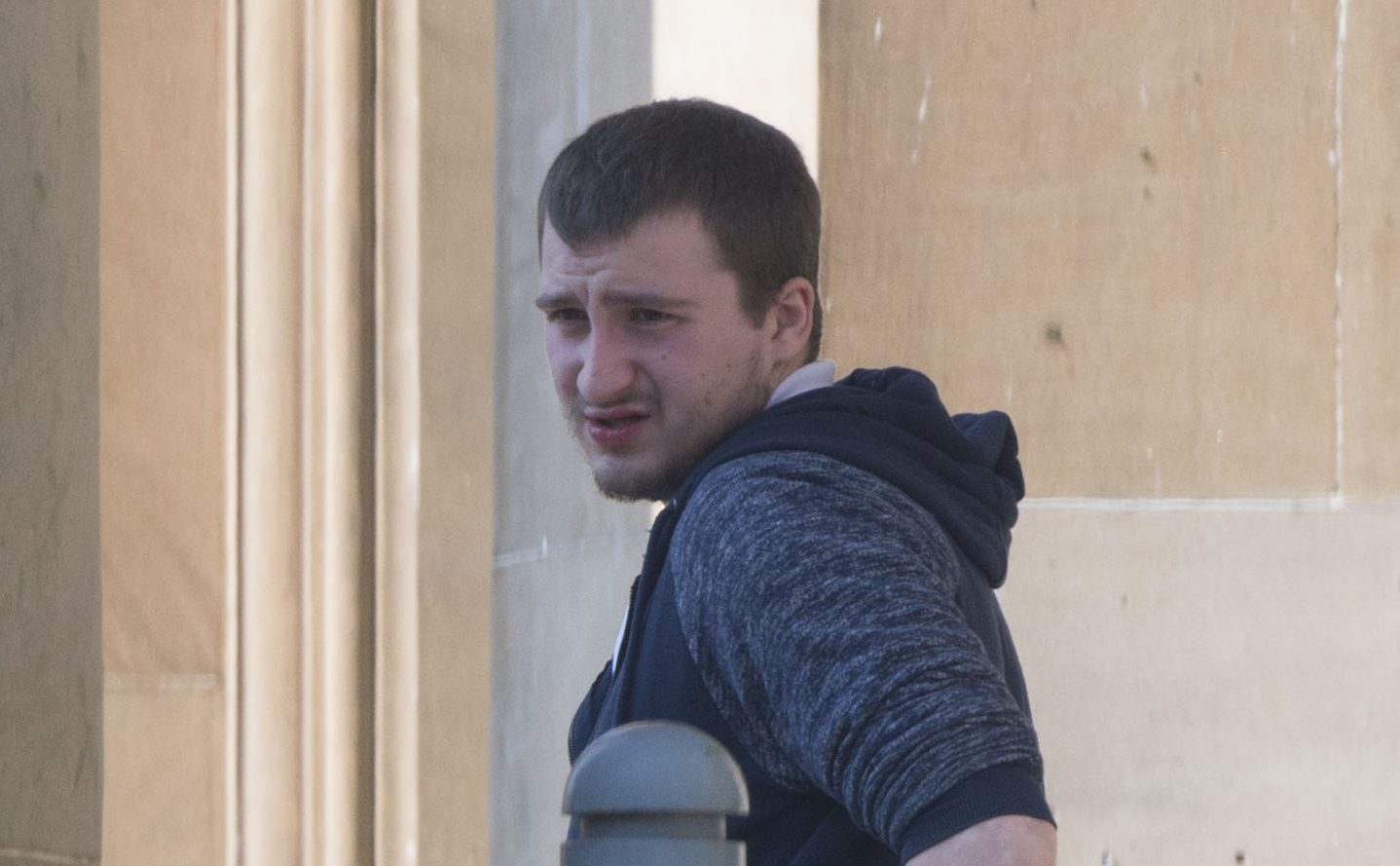 A fraudster who cooked up a bizarre ruse in an attempt to avoid arrest by pretending to take his naked girlfriend hostage has been jailed for 19 months.
Liam Gorrie was jailed for a series of crimes – including scamming a Tesco self-service till by putting a TV through it and paying just 40p and a knife threat to his neighbours.
Dundee Sheriff Court heard how police went to his home to arrest him for failing to turn up in court, only for Gorrie to attempt to evade them through a bizarre scheme hatched with his girlfriend.
Gorrie hid under a bed but claimed he couldn't get out because his girlfriend was on top of it.
Meanwhile, she claimed she couldn't get out of the bed because she was naked.
The two male officers present left the room to "afford her some dignity".
Gorrie, attired only in his boxer shorts, then pulled out a knife and lunged at girlfriend Johanna Low.
Fiscal depute Vicki Bell told the court: "Witness Low was still lying on the bed holding the duvet cover over herself.
"He had hold of a knife in his hand and was holding it against the right side of her neck.
"He demanded police back off or he would use the knife on witness Low.
"He was immediately challenged by officers who drew their CS spray.
"The accused immediately moved from his position and dropped the knife.
"Witness Low did not suffer any injury and did not appear affected by the incident."
In another incident Gorrie pulled a knife on one of his neighbours and told her: "It's a blade – that's just the kind of guy I am."
And in his fraud case Gorrie and pal Mathew Ferguson took two big screen TVs to the self-service tills at the Tesco store in Dundee's South Road.
But instead of scanning the barcodes and paying full price, they entered an incorrect barcode that "magically" reduced the price to just a fraction of the true cost.
The pair then put just 40 pence into the machine – around one 1200th of the actual retail price – and made off with the flat screen tellies.
Gorrie, 22, a prisoner at HMP Perth, pleaded guilty on indictment to charges of possessing a knife and behaving in a threatening and abusive manner on September 12 2014 and to attempting to pervert the course of justice on January 30 this year.
He further pleaded guilty to a charge of fraud on summary complaint.
Solicitor advocate Kris Gilmartin, defending, said: "In relation to the arrest the complainer knew what was going to happen at all times.
"When police attended and didn't go away he immediately put down the knife.
"That's why it's an unusual crime of attempting to pervert the course of justice and not an assault.
"In relation to the fraud there's nothing that can be said."
Sheriff Alastair Carmichael jailed Gorrie for a total of 566 days.
He said: "The only appropriate sentence is custody.
"There is no point in thinking about a further community payback order, it is simply not going to work."