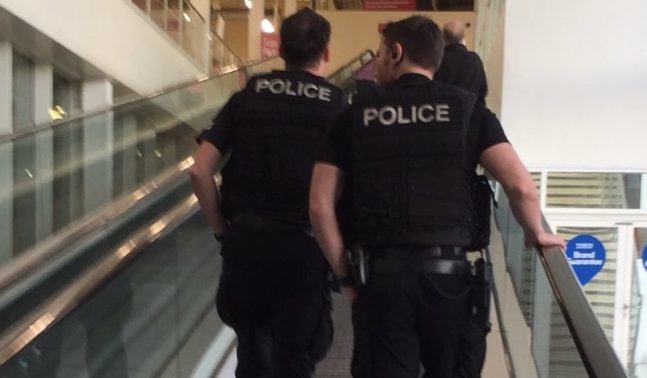 The leader of the Scottish Liberal Democrats said the sight of armed police must not become commonplace after a gun-carrying officer was spotted in a Dundee supermarket.
The policeman was photographed travelling up the escalator at Tesco Extra on South Road on Wednesday evening.
Police Scotland said fewer than two per cent of officers routinely carry guns and the public should expect to see them "from time to time."
The Courier was passed a photograph of the incident on Wednesday by a concerned shopper.
The man, who has to remain anonymous, said: "I'm ex-Army and they have no back up firearm, so would be next to useless if they needed to respond to an attack.
"Glasgow and Edinburgh airport police all carry two weapons, as do the army."
Police Scotland revealed in June they were increasing the number of officers carrying firearms in response to raised terror threat levels.
However, Scottish Liberal Democrat leader Willie Rennie said the picture raises questions about the policy of arming police.
He said: "We have been assured repeatedly by the Cabinet Secretary for Justice that armed offices will not be deployed on routine duties.
"These pictures seem to fly in the face of those claims.
"There will always be a time and a place for the deployment of armed officers and they do great work in keeping us safe.
"But recognising the important role they play is not the same of accepting that we should have armed police on the streets as a matter of routine."
Mr Rennie added: "We need to be clear on the guidance that officers have been given and the steps that Police Scotland has taken to ensure that sightings of armed officers is kept to a minimum."
Superintendent Kirk Kinnell, head of armed policing for Police Scotland, said: "Armed Response Offices are entitled to purchase food when on duty.
"As they are always armed when on duty, members of the public will naturally see them from time-to-time. The safest place for them to keep their sidearms is on their person.
"When actioned to incidents, they attend firearms or threat to life calls or where the deployment of armed officers is otherwise considered appropriate, they are also expected to react to crimes and offences which they come across during their patrols."
Mr Kinnell said the vast majority of Scotland's police officers do not carry guns.
He said: "There is no routine arming of police officers in Scotland; a small number of officers – currently fewer than two per cent of our 17,234 officers – are available 24 hours a day, seven days a week to keep people safe.
"They are armed, so that the other 98% of them do not need to be. Officers volunteer for this specialist role so that all communities have the same level of access to this specialist support no matter where and when the need."