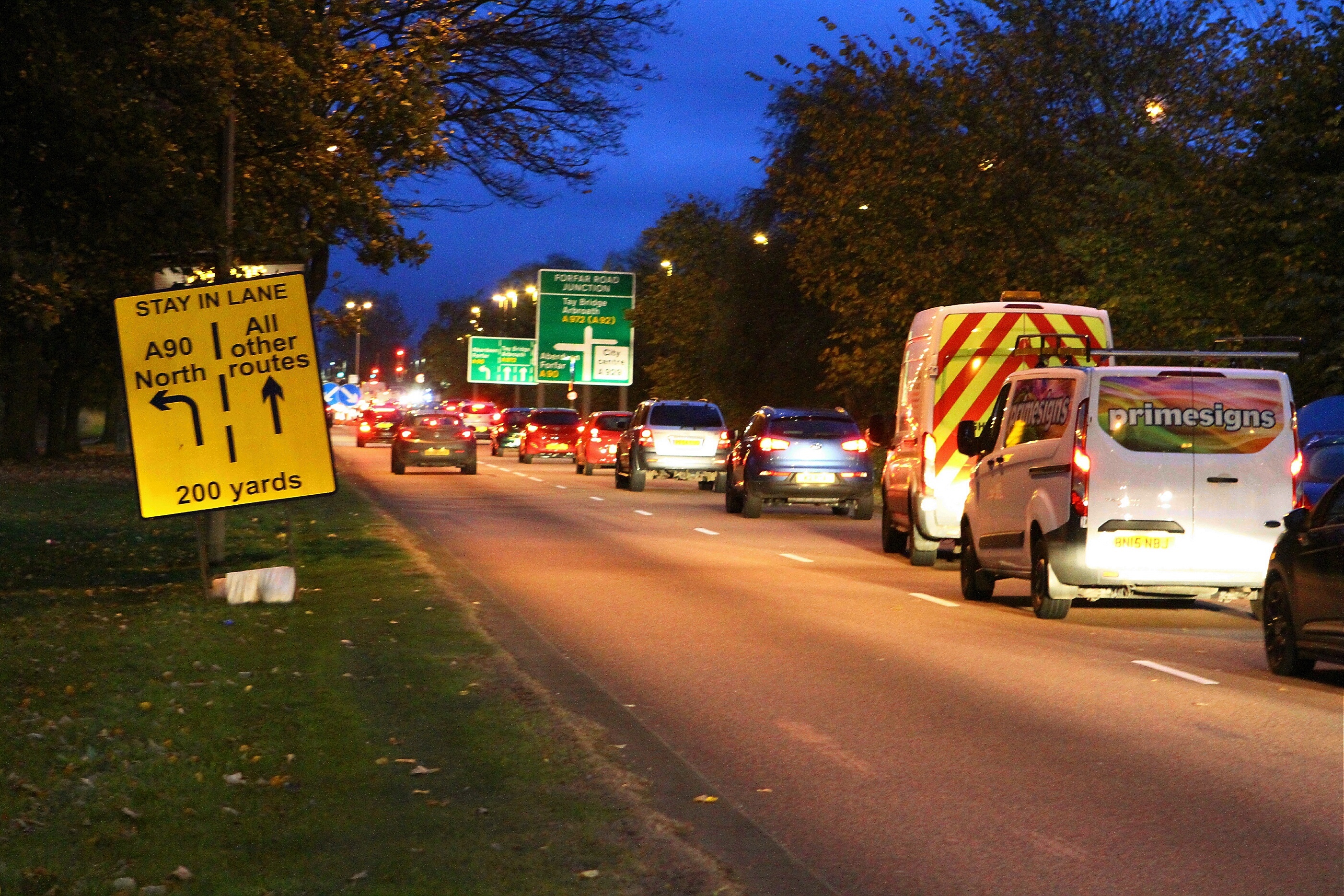 Rush hour motorists faced lengthy delays on Monday due to scheduled roadworks on one of Dundee's busiest routes.
The Kingsway was clogged eastbound in the morning from as early as 7.30am between Forfar Road and Old Glamis Road causing around a 20 minute delay.
The congestion was caused by the start of the first stage of the roadworks which involve resurfacing an area between Forfar Road and the Pitkerro Road.
Delays on the stretch eventually receded to just a few minutes after rush hour traffic dispersed.
The 500m section of the carriageway has been reduced to a single lane for the next two weeks as part of Bear Scotland's £435,000 maintenance works.
This will eventually see works being carried out under a complete closure of the carriageway for seven nights from Sunday November 13 to Saturday November 19 between 7.30pm and 6.30am.
The Kingsway is used by an estimated 12,600 vehicles every day, with rush hour commuters likely to face the brunt of the delays.
However, Andy Thompson, BEAR Scotland's North East Representative, said extensive discussions were held with Dundee City Council to determine the safest and shortest available diversion routes to minimise disruption.
He said: "We've planned the works to take place over a four week period to reduce the over-all impact of the programme, but also to avoid the peak summer months.
"We will continue monitoring and reporting any delays to Traffic Scotland throughout the scheme in order that motorists may be made aware of any increased journey times, and we thank motorists and local residents for their patience in advance while our teams carry out these essential works which will strengthen the Kingsway and greatly improve the road surface.
"Every effort will be made to minimise disruption as much as possible during the essential improvements to the Kingsway, and we will continue to liaise with all stakeholders and update them on our progress."
Pitkerro roundabout will also be upgraded as well as a section of the route from Longtown Road to Milton of Craigie Roundabout.
The roundabout will closed for two nights on Sunday November 20 and Monday November 21 while the section of Longtown Road will be closed for four nights from Tuesday November 22 to Friday November 25.
All roadworks part of the project are due to be completed by Friday November 25 with local diversions signed up to then to keep drivers aware of which sections are subject to restrictions.